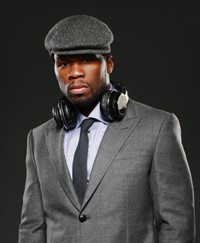 50
Cent
Music Mogul, Entrepreneur
"I'm blessed to have the ability to easily help people in need through my successes, and the Feeding America Entertainment Council is the perfect outlet for me to continue to do so."
Read the announcement of 50 Cent joining the Entertainment Council.
What began as music chart dominance for the rap music phenomenon 50 Cent, has quickly transformed to success in corporate America as a multi tiered business mogul to be reckoned with. Recognized as one of the most talented and prolific music artists of his time, 50 Cent has managed to leverage his star power into record-breaking brand extensions encompassing a broad spectrum of businesses and philanthropic activity. Curtis "50 Cent" Jackson has cemented his position globally as a business and entertainment powerhouse.
Growing up in the South Jamaica neighborhood of Queens and raised by his grandparents after the death of his mother, Curtis Jackson had to fight through many of the obstacles that face inner city teens in the United States. Mr Jackson found a way to carve out success and lift himself out of difficult circumstances to become a positive force in society today.
In 2002, 50 Cent established the G Unit trademark consequently leading to the creation of G Unit records in 2003. Following that year he entered into clothing and sneaker ventures through Ecko Unlimited and Reebok. It was in 2004 that 50 partnered with Glaceau and became involved with Vitamin Water, promoting his signature drink Formula 50, with annual sales topping $120 million and becoming one of their top 5 flavors. In the following years he expanded his ventures in avenues such as video games, body spray, G Unit Books, and Cheetah Vision, his own film company. Through his music he has been able to achieve star power and through his business ventures Mr. Jackson has become a respected and highly successful entrepreneur, but it's through his philanthropic activity that he has emerged and cemented his legacy as an individual striving for change and the betterment of our society on a global scale. In 2011 not only did 50 release his own line of energy shots, Street King, but he also established SMS Audio, a world class audio and accessory brand dedicated to improving the way people experience music. Both companies have incorporated a strong sense of social responsibility and are pushing 50's new life goal of riding the world of hunger.
Through his Street King initiative, 50 Cent has set a goal to provide one billion meals. For each bottle of Street King energy shot that is purchased, 50 personally funds one meal in Africa through the United Nations Hunger Programme. To date that program has supported the creation of over 3.5 million meals. To combat the same growing problem in the United States, 50 decided to have SMS Audio and Feeding America, the leading domestic hunger-relief charity in the U.S, team up to engage the nation in the fight to end hunger. For every domestic online headphone purchase made via smsaudio.com, 250 meals are funded through the Feeding America network and 50 is encouraging all SMS Audio distributors around the world to fund similar programs. 50's cause related initiatives have become increasingly valued and supported by consumers and 50 strongly encourages other entrepreneurial ventures to follow a similar path.
The launch of SMS Audio had been one of the most sought after and watched events of the year within the personal audio industry. The anticipation garnered not only by fans but industry and audiophiles alike was immense. 50 originally set out to release a line of headphones through a licensing agreement but decided to break away and start SMS Audio on his own. There had to be something better — and if it couldn't be found, 50 felt that SMS audio would create it. 50 had no intention of becoming another rapper with a headphone and instead of just slapping his name on a product, helped to engineer a line to compete at the highest level. Through his involvement with product development and helping form the style and sound of each product, 50 has brought something new to the industry, helping to design some of the most true to sound audio producing products on the market today.
SMS Audio's release into the market came with two major lines — SYNC by 50 over-ear wireless headphones and STREET by 50 over ear wired headphones.
SYNC by 50, the flagship headphone model from SMS Audio. Over ear wireless headphones incorporating KLEER Technology. Uncompressed audio delivering cd-quality lossless sound. Professionally tuned wireless headphones that feature custom 40 mm drivers, active digital EQ, full on board controls, boasts a 50 foot wireless range and can sync out to four sets of headphones from a single audio source. You would be hard pressed to find it's equal today. Comfort fit and stylish attention make this line of headphones from SMS Audio far superior than most models on the market today.
The STREET by 50 wired line now features over ear and in ear models. Part of the initial offering to the marketplace, STREET by 50 over ear wired headphones feature custom acoustic and professionally tuned 40mm drivers, enhanced bass, passive noise reduction and are designed to produce clear powerful audio straight through to the highest setting. Styled along the same lines as their SYNC by 50 wireless counterpart, the STREET by 50 line look just as great as they sound, without comprising on rugged durability and are built to last.
STREET by 50 in-ear headphones. Professionally tuned ergonomic headphones featuring integrated mic and controls. Perfectly balanced audio output for huge clear sound in a small package. Features professionally tuned 11mm drivers, crystal clear sound, ergonomically designed, Apple® control mic with volume control, reinforced cables and gold connectors.
SMS Audio is receiving rave reviews daily from online bloggers, audiophiles and industry professionals.
The SMS global media onslaught encompassing printed media, billboards, street teams, radio, and various online components including 50's social networking juggernaut which includes over 23 million facebook followers, over 6.7 million on twitter and the number one online hip-hop portal in the world, thisis50.com.
Smsaudio.com will continue to grow and expand its outreach in the online space becoming a central hub for not only product and e-commerce but increasing 50's online reach to greater audiences.
All SMS Audio products are designed and built using three major factors — sound quality, style and toughness. It's our goal to produce sound as true to the music that is created and mastered by the artist in the studio. SMS Audio, studio mastered sound… create the sound.
Watch 50 Cent in the 2012 Hunger Action Month celebrity montage video.