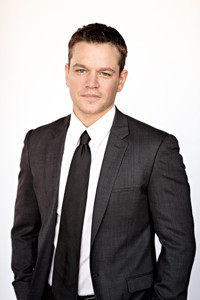 Matt Damon has been honored for his work on both sides of the camera, most recently earning Academy Award®, Screen Actors Guild Award® and Critics' Choice Award nominations for Best Supporting Actor for his portrayal of South African rugby hero Francois Pienaar in Clint Eastwood's true-life drama "Invictus." In addition, he also garnered dual Golden Globe Award nominations this year: one for Best Supporting Actor for his performance in "Invictus" and one for Best Actor for his starring role in Steven Soderbergh's "The Informant!" Earlier in his career, Damon won an Academy Award® for Best Screenplay and received an Oscar® nomination for Best Actor, both for his breakthrough feature "Good Will Hunting."
Currently Damon stars in "Promised Land," which is the story an oil company exec, who, along with his sales partner attempts to secure drilling rights from citizens of economically depressed town. The film, which is directed by Gus Van Sant, was written and produced by Damon and John Krasinki.
In 2011 Damon starred in a number of projects, including "We Bought a Zoo," directed by Cameron Crowe, the Coen brothers' remake of the classic Western "True Grit," George Nolfi's thriller "The Adjustment Bureau," opposite Emily Blunt, he lent his voice to the animated feature "Happy Feet 2," and reunited with Soderbergh to join the ensemble cast of the thriller "Contagion."
In 2002, Damon originated the role of Jason Bourne in the blockbuster actioner "The Bourne Identity." He went on to reprise his role in the two hit sequels, "The Bourne Supremacy" and "The Bourne Ultimatum," both directed by Paul Greengrass. He has also repeatedly teamed with Steven Soderbergh: as part of the all-star cast in the "Ocean's" trilogy, and in a cameo role in the second part of the director's two-part biopic "Che."
Damon's other recent film credits include the drama "Hereafter," which reunited him with director Clint Eastwood, the action thriller "Green Zone," directed by Paul Greengrass, Martin Scorsese's Oscar®-winning Best Picture "The Departed," with Leonardo DiCaprio, Jack Nicholson and Mark Wahlberg; Robert De Niro's dramatic thriller "The Good Shepherd," with De Niro and Angelina Jolie; and Stephen Gaghan's geopolitical thriller "Syriana," with George Clooney.
In addition, for the small screen, Damon both executive produced and appeared in the History Channel project "The People Speak," based on a book co-written by famed historian Howard Zinn and featuring dramatic readings and performances from some of the most famous names in the entertainment industry.
Hailing from Boston, Damon attended Harvard University and gained his first acting experience with the American Repertory Theatre. He made his feature film debut in "Mystic Pizza," followed by roles in "School Ties," Walter Hill's "Geronimo: An American Legend," and the cable projects "Rising Son" and Tommy Lee Jones' "The Good Old Boys." He first gained attention with his portrayal of a guilt-ridden Gulf War veteran tormented by memories of a battlefield incident in 1996's "Courage Under Fire."
Together with his lifelong friend Ben Affleck, Damon co-wrote the acclaimed 1997 drama "Good Will Hunting," for which they won an Academy Award® and a Golden Globe Award, as well as several critics groups awards for Best Original Screenplay. Damon also garnered Oscar®, Golden Globe and Screen Actors Guild (SAG) Award® nominations for Best Actor. Additionally in 1997, Damon starred as an idealistic young attorney in Francis Ford Coppola's "The Rainmaker" and made a cameo appearance in Kevin Smith's "Chasing Amy."
The following year, Damon played the title role in Steven Spielberg's award-winning World War II drama "Saving Private Ryan" and also starred in John Dahl's drama "Rounders," with Edward Norton. Damon earned his third Golden Globe nomination for his performance in 1999's "The Talented Mr. Ripley," under the direction of Anthony Minghella. He also reunited with Ben Affleck and director Kevin Smith to star in the controversial comedy "Dogma."
Damon's subsequent film credits include starring roles in Robert Redford's "The Legend of Bagger Vance"; Billy Bob Thornton's "All the Pretty Horses"; the Farrelly brothers' comedy "Stuck on You," opposite Greg Kinnear; Terry Gilliam's "The Brothers Grimm," with Heath Ledger; and a cameo in George Clooney's "Confessions of a Dangerous Mind."
In 2013, audiences will next see Damon star with Michael Douglas in the HBO telefilm "Behind the Candelabra" for director Stephen Soderbergh. The film takes a behind-the-scenes look at the tempestuous relationship between legendary entertainer Liberace (Douglas) and Scott Thorson (Damon) his younger limo driver and live-in lover.
Damon will also star for director Neil Blomkamp in the sci-fi thriller Elysium which Sony Pictures will release in August.
Damon is currently filming The Monuments Men, for director, co-writer and co-star George Clooney. Based on the true story of the greatest treasure hunt in history, The Monuments Men is an action-thriller focusing on an unlikely World War II platoon, tasked by FDR with going into Germany to rescue artistic masterpieces from Nazi thieves and returning them to their rightful owners.
In 2000, Damon and Affleck formed the production company LivePlanet to produce film, television and new media projects. LivePlanet produced three Emmy-nominated seasons of "Project Greenlight," chronicling the making of independent films by first-time writers and directors. The "Project Greenlight" films produced to date are Stolen Summer, The Battle of Shaker Heights and Feast. LivePlanet also produced the documentary Running the Sahara, directed by Oscar® winner James Moll.
In 2008, Oscar winners Damon and Affleck formed Pearl Street Productions to produce stories in film and television. Pearl Street recently co-produced Promised Land. Current projects in development include Whitey Bulger, Father Daughter Time – a tale of armed robbery and Eskimo kisses, Live By Night, and Race To The South Pole. Jennifer Todd (Memento, Alice in Wonderland) serves as President of the company, which has a first look deal with Warner Brothers Pictures.
In addition, Damon co-founded H20 Africa in 2006, now known as Water.org.