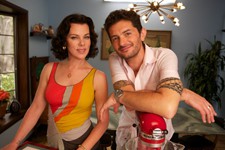 Chef, TV Personality & Actress, TV Personality
Gabriele
Corcos & Debi Mazar
"We support Feeding America because we believe that every man, woman and child has the absolute right to access healthy meals and be provided with care, love and nourishment, especially in these harsh financial times. The continued effort of the Entertainment Council has granted exposure to this matter, has provided inspiration and funds for the growth of a program that has so far done marvelous things for people all around the country. It is an honor to be part of such proactive and deeply involved organization."
Gabriele Corcos
Born in Florence, Italy, Gabriele Corcos was raised in the Olive Country of Fiesole. His grandmother and mother taught him everything he knows about Tuscan food and traditional farmers' cuisine. At the age of six, one Sunday morning alone in the kitchen, Gabriele decided to turn on the oven and baked his first cake. He then delivered it warm to his parents' bedroom for breakfast, but decided to charge them a fee!
From then on, his Sunday morning baking experiments became his weekly allowance. Gabriele has not stopped cooking since, and he has an insatiable fascination with food, a love for organic ingredients, and foremost a determination to feed his wife and children in the healthiest and most natural way he knows…the Tuscan Way.
His new Cooking Channel show, Extra Virgin, invites viewers into his family's Los Angeles home, where Gabriele and his wife, actress Debi Mazar, share their passion for food and each other. She's a modern girl from Queens, and he's a food purist from the hills of Tuscany. With their two young daughters, they have a home life that is pleasantly chaotic and filled with only home-cooked Tuscan meals. Gabriele is in the process of opening his very first restaurant in Brooklyn, NY.

Debi Mazar
Debi Mazar, a New York native, made her feature film debut in Martin Scorsese's GOOD FELLAS as Ray Liotta's junkie mistress. She went on to work with such noted directors as Oliver Stone, Spike Lee, Joel Schumacher, Barry Levinson, Jodie Foster, Michael Mann and Woody Allen, crossing between comedy and drama.
Mazar also made her mark in the independent film world co-starring in such offbeat films as Nick Cassavete's SHE'S SO LOVELY and Steve Buscemi's directorial debut, TREES LOUNGE. Some of Debi's notable films include BATMAN FOREVER, MALCOLM X, BE COOL, COLLATERAL and THE INSIDER. She made her television debut on Steven Bochco's CIVIL WARS, and her character was then added to LA LAW.
Mazar then developed and starred in her own sitcom TEMPORARILY YOURS created by Michael Patrick King. Debi most recently portrayed "Shauna" the uber publicist on HBO's hit series ENTOURAGE, and is currently filming feature, LOVELACE.
Debi is married to husband, Gabriele Corcos. They have two young daughters and live in Brooklyn and Florence, Italy. The couple has a very successful internet blog, WWW.UNDERTHETUSCANGUN.COM, and they are the stars of Cooking Channel's EXTRA VIRGIN, which they write and produce as well.