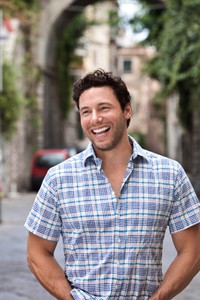 Chef, TV Personality
Rocco
DiSpirito
"This is simple stuff, our neighbors are hungry and we have to help."
Rocco DiSpirito is a chef and the author of nine award-winning books including the #1 New York Times bestsellers NOW EAT THIS! And NOW EAT THIS! DIET. Rocco's NOW EAT THIS! series: features healthy makeovers of America's favorite comfort foods, from fried chicken to apple pie, all with zero bad carbs, zero bad fats, zero sugar, and maximum flavor. Everything you've always loved … well, now you can enjoy it without worrying about what it will do to your waistline. What's more, every dish weighs in at less than 350 calories.
Chef Rocco DiSpirito is on a mission to change people's perception of healthy food by making delicious low-fat, low-calorie dishes easily accessible. To that end, he launched the Now Eat This! Truck, which will travel around New York City selling meals created from recipes featured in his wildly successful series of cookbooks of the same name. Each meal will include an entrée under 350 calories as well as a healthy drink and dessert option. Chef DiSpirito will donate 100% of the proceeds to provide a free lunch to a New York City student. Once a week, during Free Lunch Fridays, Chef DiSpirito will personally visit different city schools to educate the students on the massive benefits of eating healthy foods. As part of that program, he will serve free lunches to the participating students paid for by the generosity of other New Yorkers who buy their lunch from the "Now Eat This Truck." In September 2012 Rocco's Syndicated Show Now Eat This! With Rocco DiSpirito began airing in syndication across America. In each episode Rocco will challenge, guide and encourage a family and their children to make healthier lifestyle choices.
Rocco began his culinary studies at the Culinary Institute of America at the age of 16 and by 20 was working in the kitchens of legendary chefs around the globe. He was named Food & Wine Magazine's Best New Chef and was the first chef to appear on Gourmet Magazine's cover as America's Most Exciting Young Chef. His 3-Star Restaurant Union Pacific was a New York City culinary landmark for many years. Ruth Reichl said of her experience at Union Pacific, she "moaned as she ate" in her famous New York Times review. His reality series Rocco's Dinner Party aired during the summer of 2011 on Bravo. Rocco is a frequent guest on Good Morning America, Rachael Ray and The Dr. Oz Show and has appeared on The View, Today, The Doctors, Ellen and many other programs.