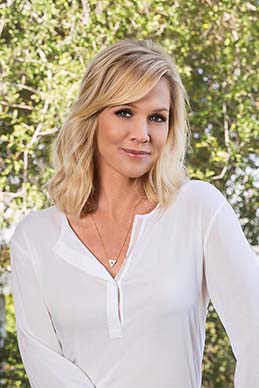 "Parents shouldn't have to struggle to feed their children. By working with Feeding America my hope is to help get healthy food to every parent."
Jennie Garth skyrocketed to stardom with her role as Kelly Taylor on Beverly Hills, 90210. The show became a ratings juggernaut, lasting 10 seasons, and remains one of the most successful and iconic television series ever produced. In 2008 Jennie reprised her role as Kelly in the new 90210 series this time playing a counselor rather than a student. She also reteamed with her co-stars Luke Perry and Jason Priestley in 2012 when she appeared in the fan favorite back-to school campaign for Old Navy.

In 2014 she added the title of author to her resume releasing her first memoir with New American Library (NAL), a division of Penguin Group (USA), titled, Deep Thoughts From a Hollywood Blonde. She also produced and starred in the TV comedy "Mystery Girls" opposite Tori Spelling.

In 2002 Jennie made her comedy debut as the straight-laced sister of Amanda Bynes in the WB's "What I Like About You". The series concluded in 2006 after a four season run.

Jennie has also starred in many successful television TV shows and movies over the years including the 2013 ABC Family holiday comedy "Holidaze", the 2012 Lifetime film "The Eleventh Victim," based on the best-selling novel by Nancy Grace, the 2007 season of Dancing with the Stars", where she made it through to the semi-finals, "Girl Positive", "Accidentally in Love", and "A Christmas Tail" to name a few.

Jennie actively gives back supporting causes such as Feeding America, Kids Vision for Life, Stand Up to Cancer, The American Heart Association, Austism Speaks, Lollipop Theater Network and Water4.

Jennie and her three daughters, Luca Bella, Lola Ray, and Fiona Eve currently reside in Los Angeles.