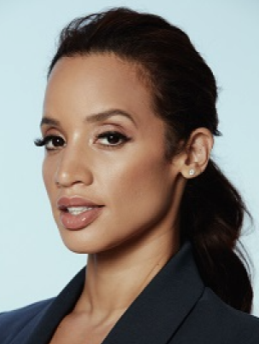 "Food is a necessity not luxury; feeding a fellow neighbor will only build a healthier community."
Born in the Dominican Republic and raised in Brooklyn by way of Miami, SAG Award winning actress Dascha Polanco is well known for her groundbreaking roles in Hollywood as a leading young Latina actor. A fan favorite, Polanco played the role of "Dayanara Diaz" on the hit Netflix original series, "Orange is the New Black" (OITNB). Polanco was most recently seen in HBO Max's adaption of Lin-Manuel Miranda's "In The Heights." She will next be seen starring in the MGM film, "Samaritan" opposite Sylvester Stallone as well as the voice of Jessica Cruz / The Green Lantern in "DC's League of Super Pets". She recently completed work on the Peacock anthology series, "Poker Face", opposite Natasha Lyonne and created & directed by Rian Johnson.
Recent credits of Polanco include "Detective Lori Wieder" in the Ryan Murphy FX anthology series "The Assassination of Gianni Versace: American Crime Story and the Narrator in HBO Max's "Gordita Chronicle"s. Other credits include Martin Scorsese's "The Irishman" opposite Robert De Niro, Ava DuVernay's Emmy-winning Netflix series "When They See Us" alongside John Leguizamo and, she co-starred alongside Jennifer Lawrence, Bradley Cooper and Robert De Niro in the 20th Century Fox film, "JOY", directed by David O. Russell which was nominated for a Golden Globe Award. No stranger to the big screen, Polanco also starred in "The Perfect Match" (2016) directed by Billie Woodruff and producer Queen Latifah and in Adrian Martinez's indie dark comedy "iCreep". She has also starred in Tom McCarthy's "The Cobbler" with Adam Sandler (2015) and made her big screen debut opposite Vanessa Hudgens and Rosario Dawson in the dramatic independent flick, "GIMME SHELTER."
Polanco first received her big break in "OITNB" while attending classes for nursing at LIU and working as a Central Sterile Manager/Surgical Tech in two New York City hospitals. Since then, in addition to numerous film and TV roles, Polanco has been featured as the face of Old Navy's national Spanish commercial campaign. In 2015/2016 she became part of the NFL's Women's Apparel campaign, representing the New York Giants and the Latino community.
Her achievements have been recognized by numerous awards, including the ALMA Awards, HOLA Awards, and The National Association of Latino Independent Producers (Lupe Award). Huffington Post recognized her as one of the Latinas to be "Breaking The Mold," and The Hollywood Reporter named her one of the 40 Young Latino Powerhouses in Hollywood.
As an activist and advocate for the Latinx community and women's rights, Polanco is on the Entertainment Committee for Feeding America and on the Board of Directors for the Starfish Foundation, which provides financial support to hardworking young women in need of the resources necessary to succeed. She is also very involved with the DREAM Project Foundation which provides more than 732,000 hours of quality education to more than 8,200 children through 14 different programs across 27 communities in the Dominican Republic. Dascha created the #selflovery campaign and is outspoken about representation/diversity in Hollywood as well as size inclusivity.