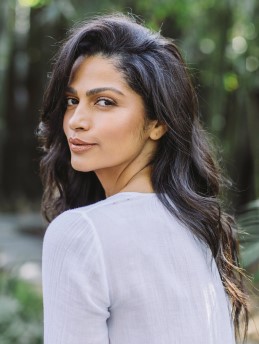 Entrepreneur and co-owner of Yummy Spoonfuls
Camila
Alves McConaughey
Camila Alves McConaughey is a dedicated mother, entrepreneur, and NY Times Bestselling Author. Camila supports Feeding America because she believes parents should be able to provide for their families.
"Being a mom is hard enough; you're always trying to do the right thing for your kids and it's hard when you can't. Being able to provide a meal to kids who might not know where their next one is coming from goes without saying — it's basic necessities."
Camila Alves McConaughey is a dedicated mother, entrepreneur, and NY Times Bestselling Author. Born and raised in Brazil to a family of farmers, she grew up with a strong connection to the taste and aroma of food made using only fresh-picked ingredients.
After moving to the U.S. in her teens to pursue a career in fashion, she later established herself as a well-known lifestyle expert – hosting the Food Network's "Kids BBQ Championship" and Bravo's "Shear Genius," guest judging on "Chopped Junior," and co-founding a frozen organic baby food brand, Yummy Spoonfuls.
Camila regularly makes appearances on Today show, The Talk and Rachel Ray sharing her fresh, modern approach to entertaining, beauty and cooking.
Throughout her career, Camila has traveled the world and with each journey found a deep interest and connection to different cultures and communities around the globe. With this vision, in 2015 she launched the lifestyle and community website Women of Today to build a space that encourages connection around content focused on family, food, fashion, wellness, home and more.
In March, Camila released her first children's book 'Just Try One Bite,' became an instant New York Times Bestseller. It's a fresh and hilarious new take on picky eating with whimsical role reversals. Three kids are determined to get their parents to put down the ice cream, cake, and chicken fried steak to just try one bite of healthy whole foods.
Camila currently resides in Austin, TX with her husband and three children.
Read Camila's interview with Feeding America about motherhood and teaching your kids to love giving back.