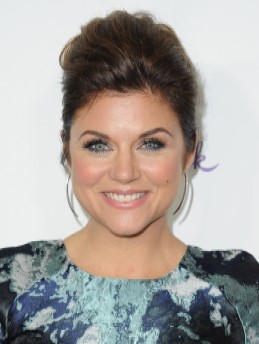 "My home is always open for people to pull up a chair and gather around the table for delicious food and warm hospitality. I love being a part of a community that finds it just as important to share the same thoughts with people around the world. No one should go hungry and everyone should feel the love and comfort of sharing food with friends and family."
Tiffani Thiessen has enjoyed a successful professional career as an actor, author, and an innovator in the kitchen.
She has long been one of America's sweethearts, with everyone who experienced adolescence in the 1990s having likely spent as much time watching Saved by the Bell reruns as they did doing homework.
She began modeling at the age of eight, going on to win the Miss Junior American pageant at 13 years old. At 15 years old, Tiffani would be cast in "Saved By the Bell." The show was a massive success, continuing for five years while she was still in high school and becoming the valedictorian. Some 30 years later, with reruns still being seen in over 34 countries, NBC streaming platform Peacock rebooted the show where Tiffani served as Producer and reprised her role in select episodes.
Thiessen is currently hosting DELICIOUSNESS on MTV, a food-themed spinoff of MTV's popular show Ridiculousness. The show will premiere its third season this fall.
Thiessen most recently starred on the Emmy-nominated Netflix original sitcom ALEXA & KATIE for three seasons. Her performance earned her a Daytime Emmy Award nomination for "Outstanding Supporting Actress."
For three seasons, Tiffani created, produced, and starred in DINNER AT TIFFANI'S on Food Network. It is now one of the most watched shows on the network. While simultaneously working on the show, Tiffani published her first cookbook, Pull Up a Chair, which Publisher's Weekly called "inspiring" and "a celebration."
Thiessen starred as Elizabeth Burke in the USA Network hit series WHITE COLLAR. The show ran for six seasons, garnering eleven award nominations. Her previous television work was in several acclaimed comedy series including "What About Brian," "Good Morning Miami," "Just Shoot Me," "Two Guys, a Girl and a Pizza Place," and "NewsRadio."
In 2003, she landed the coveted female lead in the Fox series "Fast Lane" produced and directed by action veteran McG.
She made her feature film debut in "Son In Law" opposite Pauly Shore. In 1993, she showed her range when Aaron Spelling cast her in "Beverly Hills 90210," where she portrayed the multi-layered Valerie Malone for five seasons.
Her other feature film roles include the comedy "Ladies Man;" "Speedway Junky" with Jesse Bradford and Daryl Hannah; "Love Stinks" with Tyra Banks; and "Shriek! If you Know What I did Last Friday 13th."
As an industry veteran, Tiffani started her own Production company called Tit 4 Tat Productions where she directed her first film entitled "Just Pray," based on the story by acclaimed author R. Dean Johnson. The film won numerous awards including Rhode Island Film Festival, an Academy Award qualifying festival. Several projects are in development.
As an artist and influencer, Thiessen has also successfully participated in campaigns for various Fortune 500 brands such as: GLAD, Hershey's, Quaker, 3M, Albertson's, Carnival Cruise, Coke, Crest, H&M, Heinz and Nokia.
Tiffani is based in Los Angeles with her husband, daughter and son.