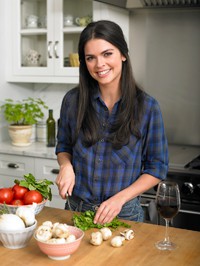 Chef, TV Personality
Katie
Lee
"Everyone should know the comfort and warmth of sharing a meal with family and friends, which is why I support Feeding America."
From food to fashion, Katie Lee summarizes her style with her three c's—casual, comfortable with a touch of couture. She also refers to her culinary approach as "conscious consumption." She explains, "If you are what you eat, then you should know what you are eating, where it came from and how it was raised." This philosophy is clearly reflected in her first cookbook The Comfort Table (Simon Spotlight Entertainment, 2008). In October of 2009, Katie expanded The Comfort Table series by releasing a follow up to her 2008 best-seller called The Comfort Table: Recipes for Everyday Occasions (Simon Spotlight Entertainment). A one-stop shop for all things entertaining, the book features full menus for various at-home celebrations. Simple suggestions for décor and iPod playlists complement the theme of each meal to round out the experience, making a night at home an easily elegant event.
Katie's broad culinary experience ranges from hosting the first season of Bravo's hit reality series Top Chef to writing culinary and lifestyle features for an array of magazines. She has served as a food and lifestyle contributor for The Early Show and appeared on Oprah, CBS Sunday Morning, The Talk, The Rachael Ray Show, The Nate Berkus Show, and Iron Chef America. She writes a regular column for Cosmopolitan, and her recipes have been featured in publications such as People, Vanity Fair, Food and Wine, Town & Country, and InStyle.
In June 2011, Katie released her first foray into fiction called Groundswell (Gallery Books), a glamorous and addicting novel designated "the must-have accessory for this summer's beach bag" by New York Times bestselling author Jen Lancaster. Her "Eat, Surf, Love" story follows a young woman recovering from divorce who finds the healing power of surfing—and love—in an idyllic beach town in Mexico. The paperback edition hit stores May 29, 2012. When not working or volunteering, she enjoys surfing, traveling, and playing with her pug Fionula. She resides in the Hamptons.