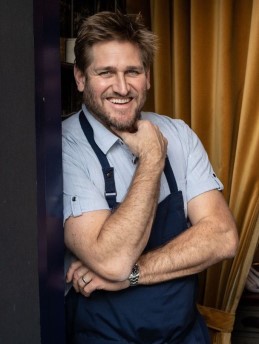 Chef, TV Personality
Curtis
Stone
"I was introduced to Feeding America through my work on the Biggest Loser and was immediately moved by the great work the charity does. As a chef, food has always been the center of my world and the Feeding America network strives to ensure that people have access to food and the means to enjoy a meal. I am honored to be a part of the movement to help provide food assistance across America".
Curtis Stone is a Los Angeles-based Michelin-starred chef, restaurateur, author and culinary entrepreneur. Curtis began cooking at the Savoy Hotel's five-star restaurant in his hometown of Melbourne, Australia at the age of 18. He moved to Europe when he was 21 to further his education and classical training under renowned chef Marco Pierre White for eight years, a foundation that would inform his subsequent career in Los Angeles. In 2014, Curtis opened his first solo restaurant, Maude (Beverly Hills, CA), to immediate acclaim. Following the success of Maude, Curtis opened Gwen Butcher Shop & Restaurant (Hollywood, CA) in July 2016 with his brother Luke Stone. The brothers opened their second restaurant together, Georgie, modeled after Gwen, with restaurateur Stephan Courseau in Dallas, Texas in fall 2019. In addition to the restaurants, Curtis operates Curtis Stone Events in Los Angeles, a full-service events and catering company that crafts personalized occasions for guests.
Outside his restaurants, Curtis is widely known for his appearances on television programs such as Take Home Chef (TLC), Top Chef Masters (Bravo), the Emmy-nominated Top Chef Junior, an extension of the NBC Top Chef franchise, as well as making frequent appearances on MasterChef Australia. In Fall 2019, Curtis debuted Field Trip with Curtis Stone on PBS, a six-episode series inspired by his global travels to research the regional menus at the newly minted Michelin-starred Maude. Season two premiered in October 2020 and is streaming Peacock and Tastemade. In May 2021, Curtis filled a judge's seat for Crime Scene Kitchen (FOX), an all-new baking competition hosted by Joel McHale, with season two premiering in Winter 2023. Curtis recently entered Kitchen Stadium as an Iron Chef for Netflix's "Iron Chef: Quest for an Iron Legend," which debuted in June 2022. A New York Times bestselling author, Curtis has authored six cookbooks including his most recent, Good Food, Good Life. In 2007, Curtis developed Kitchen Solutions, a collection of sleek and functional cookware, which has now become the best reviewed brand and top-selling culinary line on the Home Shopping Network.
In 2016, Curtis began a new pledge to give back through his #Commit2One initiative. Each year he partners with a charity, devoting the majority of his time and resources to the cause. Through these efforts, he has raised funds and awareness for The National Young Farmer's Coalition, Chrysalis, AdoptTogether, Share Our Strength, which aims to end childhood hunger through their No Kid Hungry campaign, and Drought Angels.
Curtis is married to actress Lindsay Price and the couple live in Los Angeles with their two sons.