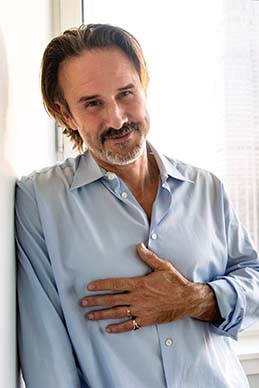 Actor, Producer
David
Arquette
"I cannot say enough about Feeding America or do enough for Feeding America. I donate my time every single week, and it's the most fulfilling, fantastic thing I could do. With the current state of our economy and the growing need among adults, children and families, it is vital that we stand behind and unite with Feeding America's cause."
David Arquette is an actor, writer, director, producer, and a member of Feeding America's Entertainment Council.
Arquette has starred in dozens of feature films, including the "Scream" films, "Hamlet 2," "Never Been Kissed," The Grey Zone," "Dream with the Fishes," "Never Die Alone" and "The Darwin Awards." Arquette recently completed production on the independent feature ORION, opposite Lily Cole and Goran Kostic and was most recently seen competing on Season 13 of the ABC series "Dancing with the Stars." Arquette is also part of the cast of the Disney Television interactive series "Jake and the Never Land Pirates" where he lends his voice as Scully, a lookout pirate parrot who helps Jake and his crew of kid pirates.
In 2003, Arquette and Courteney Cox formed Coquette Productions. Through the production company, Arquette wrote and produced his directorial debut, "The Tripper," and released "The Butlers in Love," for which he served as executive producer and director. Also under the Coquette banner, Arquette produced the FX drama, "Dirt" and is now producing "Cougar Town" for TBS, which he executive produces with Cox, who also stars in the series. A full slate of feature film and television projects are also in development. Arquette is actively involved in several charitable causes, including volunteering his time on a regular basis at Feeding America network food banks, soup kitchens, and food pantries.