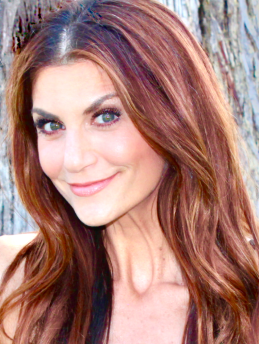 TV Personality
Samantha
Harris
"Imagine not being able to feed your child. We can do something to help by making time in our lives to join Feeding America. We can donate our time and our voices to support this cause however we can, as much as we can."
Watched by millions as the co-host of Dancing with the Stars and Entertainment Tonight, Samantha Harris is an Emmy Award-winning journalist, author, Certified Holistic Health Coach, Certified Fitness Trainer, and breast cancer thriver.
As an in-demand television host, she has also hosted dozens of other national network and syndicated programs, including Extra, Gordon Ramsay's Culinary Genius (FOX stations), Stars Earn Stripes (NBC), The Insider, E! News, and The Next Joe Millionaire (FOX network) and appeared as a guest host on Access Hollywood Live, The View, Daily Blast Live, Hollywood Today Live, Who Wants to Be a Millionaire?, and Good Morning America (special correspondent). Samantha made her Broadway debut in 2009 starring as Roxie Hart in the musical phenomenon Chicago.
Then in 2014, Samantha was blindsided by cancer.
At age 40, she was diagnosed with stage II invasive breast cancer. Determined to fight for her life, she searched for answers about how we can improve our health and prevent chronic diseases. The resulting book – debuting as a bestseller on Amazon and named on of People Magazine's Top 10 Health & Wellness Books of 2018 – Your Healthiest Healthy: 8 Easy Ways to Take Control, Help Prevent and Fight Cancer, and Live a Longer, Cleaner, Happier Life, translates comprehensive, research-backed knowledge into an easy-to-follow action plan for maximizing health, energy, and happiness for life. Queen of the Kardashian empire, Kris Jenner, says, "This book will change your life!". Dr. Drew Pinsky proclaims, "This well-researched book features so much great practical advice." Award-winning actress and fellow breast cancer survivor Rita Wilson says, "If knowledge is power, then Samantha is Wonder Woman!" To say she is passionate about health, fitness, and overall wellbeing would be an understatement.
She is dedicated to elevating women's wellness.
As a certified holistic health and nutrition coach, Samantha as has expanded her offerings to include Your Healthiest Healthy: Retreats Your Healthiest Healthy: Community, which offers weekly live coaching, workouts, breathwork and curated expert guests.
As a highly motivational keynote speaker who ignites and energizes audiences, Samantha candidly shares her personal journey from cancer diagnosis to healthiest health with genuine warmth. She also blends almost encyclopedic knowledge with insights from doctors and scientists, empowering advice incorporating small and manageable steps, practical tips and healthy recipes.
You can find her everywhere!
A certified trainer and recognized fitness expert, Samantha has appeared on the cover of numerous health and fitness magazines, including Shape, First for Women, Fit Parent, Muscle & Fitness HERS (a record four times), Pilates Style, Wellness, and Women's Running. She has also appeared inside the pages of many more, including People, USA Today magazine, SELF, Closer Weekly, InTouch, Star and US Weekly. Samantha is also a frequent guest expert on HLN's Weekend Express with Susan Hendricks and Hallmark's Home & Family. She lives in Los Angeles with her husband and their two daughters (plus their goldendoodle pup!).