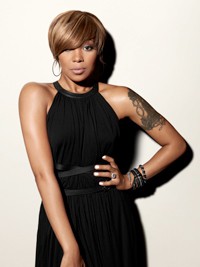 ""Feeding America is an organization that has won my heart in many ways. They make sure those who are suffering and in need are able to have one of the greatest essentials in life--food. These are kind, loving, concerned people doing God's work with open hearts, all the while raising awareness about an issue that most Americans don't realize affects all of our communities. It's been both and honor and a pleasure for my husband and I to step up for the community, join the quest in ending hunger and do our best to feed America.""
Monica is a multi-platinum Grammy Award-winning artist, 20-million-plus-selling singer, actress and entrepreneur. The young music veteran returned to the scene in 2010 after a four-year hiatus with her album "Still Standing" which garnered two Grammy nominations for Best R&B Album and Best Female R&B Vocal Performance for her hit single "Everything to Me." ""Still Standing" also received two Billboard Music Award nominations for Best R&B Artist & Top R&B Album. She began her career at the age of 15 with her hit singles "Don't Take It Personal (Just One of Dem Days)" and "Before You Walk Out of My Life." As a result, she became the youngest female ever to have two #1 back - to- back hits on Billboard's R&B chart from her 1995 debut album "Miss Thang.
Her sophomore album, "The Boy Is Mine," garnered Monica pop success when she paired with Brandy to record the Rodney Jerkins-produced first single of the same name. Spending a record-breaking 13 weeks at #1 on the Billboard charts, the duet earned a Grammy Award to add to Monica's existing collection of American Music, Soul Train and Billboard Awards. The album boasted two more #1 hits ("The First Night" and "Angel of Mine"). In 2003, Monica's chart-topping success continued when her third album, "After the Storm," debuted at #1 on Billboard's Top 200 album chart and spawned her sixth #1 single "So Gone." Monica's follow-up album, "The Makings of Me," entered at #1 on Billboard's Top R&B/Hip-Hop Album chart and added yet another achievement to the songstress' extraordinary career.
She is the first artist ever to have #1 Billboard singles in 3 consecutive decades, which puts her in the elite company of history making superstars such as Michael Jackson, Janet Jackson, James Brown and Marvin Gaye who also had similar accomplishments. In 2010, Billboard listed Monica at #24 on its list of the Top 50 R&B and Hip Hop Artists of the past 25 years.
Monica's latest album, New Life (RCA), debuted #2 on Billboard's R&B Albums chart and #4 on Billboard's Top 200 Albums chart, according to Nielsen SoundScan in April 2012.
Leading the way to the album's chart-topping debut is the single "It All Belongs To Me," the female anthem which reunited Monica with Brandy after 14 years since their Grammy Award winning duet "The Boy Is Mine." The "It All Belongs To Me" exclusive video premiered on VH1 with over 1.4 Million viewers. Receiving praise from press including USA Today's and Yahoo!, New Life rings in as the fifth consecutive top ten chart debut from the songstress, further solidifying her extraordinary and long-standing career.