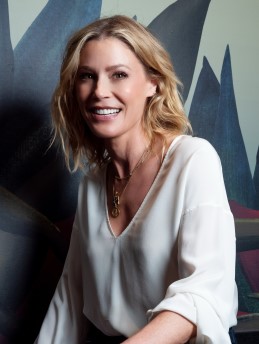 "When my own very fortunate sons even miss a single meal, I can see their energy, focus and mood decline dramatically. The fact that millions of children go hungry every day is just intolerable."
Two-time Emmy Award winner Julie Bowen currently enjoys a successful career on both television and the big screen.
Bowen starred in the critically-acclaimed hit ABC comedy Modern Family as "Claire Dunphy." Like Bowen, the series is a multiple Emmy winner. The show has also won multiple SAG Awards, for its talented ensemble cast, and a Golden Globe.
For four seasons, Bowen played "Carol Vessey," the dream girl of former classmate-turned-lawyer Ed Stevens on the charming NBC series ED. Bowen then joined James Spader and William Shatner for two seasons on ABC's hit series Boston Legal. Other television credits include a recurring role as Matthew Fox's wife on the hit ABC series Lost and a guest star arc as a cheese shop owner who seduces a younger man on the darkly-comedic Showtime series Weeds.
On the big screen, Bowen can be seen in Mixtape, The Fallout, Life of the Party, and Horrible Bosses among others. She lent her vocal talents to Planes: Fire and Rescue, DuckTales, Tangled, and soon you'll hear her in Hailey's On It! Her previous film credits include Multiplicity with Michael Keaton, Crazy on the Outside with Tim Allen and the modern comedy classic Happy Gilmore opposite Adam Sandler.
Raised in Baltimore, Maryland, Bowen caught the acting bug as a child while putting on plays with her two sisters in their backyard. She attended Brown University, where she starred in Guys and Dolls, Stage Door, and Lemon Sky. While earning her degree in Italian Renaissance studies, she also spent a year in Florence, Italy, and became fluent in Italian.
Bowen currently serves on the board of directors for Baby2Baby, a charity which supplies families in need with essential baby gear and clothing for their children. She has also lent her time and support to the charitable efforts of Stand Up 2 Cancer, Maxwell House and March of Dimes, as well as Step Up Women's Network and P.S. Arts.
Read Julie's blog about why Summer EBT is one of our best chances at ending child hunger.