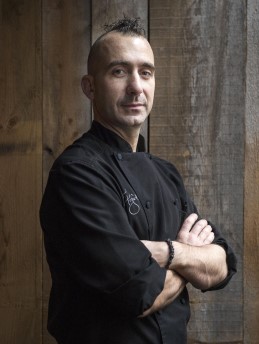 Chef, TV Personality
Marc
Forgione
"I'm always happy to use my gifts to benefit those in need whenever I can. As a chef, I love and live to feed people which is why Feeding America is a cause that's especially close to my heart."
Chef Marc Forgione is the acclaimed chef and owner of iconic wood-fired destination Peasant, the eponymous Restaurant Marc Forgione, and the recently opened One Fifth.
Hospitality is in Marc's blood. He began his culinary career at the age of 16, joining his father, Larry Forgione (known as "The Godfather" of American Cuisine), in the kitchen at the celebrated restaurant An American Place. After years in the industry, working at some of the finest restaurants in New York City and France, Marc opened his first highly-acclaimed restaurant and now Tribeca-favorite, Restaurant Marc Forgione. Marc prides the restaurant as being an approachable place "that people walk by and are compelled to enter and where the ingredients are the star." The restaurant earned esteemed accolades such as consecutive Michelin stars, a two-star review from The New York Times, and being named "Key Newcomer" by Zagat Guide. As the chef and owner, Marc was awarded "Star Chefs Rising Star of the Year."
In 2020, Marc took over the iconic NoLita destination Peasant, the wood-fired Italian restaurant that has been a downtown NYC fixture for the past 22 years. Originally opened by chef Frank DeCarlo in 1999, Peasant was Marc's favorite restaurant as he was a longtime resident of the NoLita neighborhood. When Frank was ready to retire, he asked Marc to take the restaurant over, and Marc jumped at the chance of keeping the spirit of the longtime neighborhood favorite restaurant alive. Marc's menu is an ode to simple rustic wood fired Italian cooking and uses seasonal, local, and thoughtfully sourced ingredients.
Additionally, Marc is known for his role on Food Network as one of the seven Iron Chefs on "Iron Chef America." He is also a partner of New York City's Laotian hotspot Khe-Yo, and author of "Marc Forgione: Recipes and Stories from the Acclaimed Chef and Restaurant." Donating his time to worthy charitable causes, Marc acts as a Chef Ambassador for Chefs for Kids Cancer, City Harvest, and Feeding America.
Looking ahead, Marc is partnering with established hospitality firm Apres Cru to launch a new vision: R.E.S.P.E.C.T. Hospitality, which will oversee Marc's current restaurants in addition to new projects including the recently opened One Fifth. Marc has always lived and worked by the mantra of 'respect' as it touches so many aspects of hospitality, from ingredients to history to employees to the art of service and more. The hope is that respect will become contagious.