Feeding America is hoping for the best while preparing for the worst as hurricane season begins.
July 12, 2018
by
June marked the beginning of the Atlantic hurricane season and experts predict that 2018 may be another tumultuous year for storms. Over the past several months, Feeding America has been working harder than ever to prepare for what Mother Nature may have in store.
Want to help communities impacted by recent disasters like Hurricane Florence?
Patrick Crawford, Feeding America's director of disaster services, recently shared how Feeding America and our partners provide relief when disasters hit.
Q: Why is disaster response a big priority for Feeding America?
Patrick: We are seeing disasters impact our country more than ever before. In recent years, America has been at the top of the list with China and India for countries with the most natural disasters globally.
Unless help comes, disasters can contribute to rising inequalities between affluent and low-income people. People that have never needed food assistance suddenly worry about where they will find their next meal when a tragedy strikes. To make matters worse, the impact of natural disasters is amplified in communities that are already fragile. Families that were struggling before a storm can sink even further into poverty.
Last year's disaster season drove us to become even more agile with disaster response. Major hurricanes impacted several states, and localized disasters also had a big impact. Foodbank of Santa Barbara County hadn't faced many disasters in recent years, but in 2017 they were slammed with the Thomas Fire—the largest wildfire in California history—and the Thomas Debris Flow—massive mudslides caused by rainfall on hills that had recently lost all of their vegetation in the Thomas Fire.
In the wake of these tragedies, food banks are investing in more training, planning, and partnership-building so they are even more equipped to help following disasters. Feeding America is also refining our approach to disaster response so we can better support and amplify the efforts of food banks when disasters threaten their communities.
Q: How does Feeding America prepare for disasters?
Patrick: There are many ways that Feeding America gets ready to respond to catastrophes. We build relationships with partners like the American Red Cross and USDA so that when a disaster hits, we know exactly who to call. We also conduct planning exercises with partner organizations to clearly define our response roles, develop procedures that help us work together when disasters hit and run simulation exercises to test how our plans will function during real emergencies. These activities ensure that we can mount a coordinated response that maximizes our varying strengths and resources.
We also pre-stage disaster relief packs at food banks in high-risk areas. We started creating the packs after learning from Hurricane Katrina that having supplies ready before a disaster helps food banks proactively respond. Our network members run lean operations, and by having disaster relief packs ready, they can meet the influx of need that arises in the hours immediately following a disaster as they simultaneously work to source additional food and supplies for long-term recovery efforts. Each pack is filled with easy-to-eat foods like peanut butter and canned fruit to help a family in need that may not have access to a kitchen for at least three days. This is in line with industry best practices on emergency food kits. After a few months, any disaster packs not used for rapid response are distributed to people facing hunger so nothing goes to waste.
Following Hurricane Katrina, Abbott became one of the first corporate partners to help us strategically place disaster relief supplies at food banks. Today, the company donates Abbott products uniquely suited to helping people get the nutrients they need following a disaster, such as nutritional bars and drinks. Hundreds of Abbott employees assemble disaster relief packs every year in communities where disasters are all too common, including recently at food banks in Florida, Texas, Louisiana and Puerto Rico.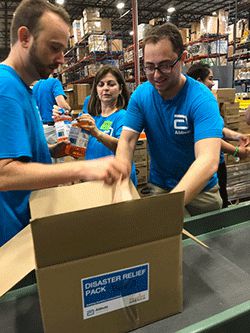 ALDI not only donates food and funds to Feeding America for disaster relief but also engages its employees and customers in giving back to communities impacted by disasters. ALDI customers recently showed their compassion for disaster victims by donating nearly $500,000 to Feeding America through donations at the register. Additionally, disaster packs assembled in June by hundreds of ALDI employees, including Chief Executive Officer Jason Hart, are already helping survivors of flash flooding in Michigan's Upper Peninsula.
Allstate agents and employees are passionate about helping communities get ready for disasters through their insurance business and as part of their commitment to corporate responsibility. The company has supported Feeding America's disaster relief efforts for more than five years, and this spring, Allstate employees assembled more than 5,000 disaster relief packs in South Carolina, Louisiana, and Texas to help network members in high-risk areas prepare for hurricane season.
After Hurricane Maria hit Puerto Rico last year, American Airlines donated much-needed disaster relief supplies and leveraged its fleet of planes to transport the donations to struggling families. Employees were so moved by the experience of helping hurricane survivors that they wanted to continue giving back. As a result, American Airlines has since participated in pre-disaster packing events to help Banco de Alimentos de Puerto Rico, a Feeding America food bank in Puerto Rico, get ready for hurricane season.
International Paper's dedication to disaster relief led the company to create the custom box that Feeding America uses for the thousands of disaster packs we pre-stage across the country. Developing the optimum box was a partnership effort that involved Feeding America sharing our preferred specifications based on our expertise in food banking and disaster response, and International Paper lending their expertise in product development. Before the design was finalized, box prototypes were tested in a lab and at food banks to determine the best ways to pack and position them on pallets to prevent them from crushing. In addition to donating thousands of the boxes to food banks, International Paper has also provided philanthropic support for Feeding America's disaster relief efforts and participated in pre-disaster packing events, including a recent event at Houston Food Bank.
Q: What can I do to help food banks get ready for disasters?
Patrick: Disasters expose vulnerabilities and create challenges, but our supporters make it possible for us to provide meals and help victims move on from the devastation.
You may be able to help your local food bank prepare for future disasters or tackle persistent hunger, which occurs every day in our country. Find your local food bank and sign up to volunteer now—it's an easy and rewarding way to lend a hand in your community.
You can also donate to Feeding America and encourage your friends to join you. Financial gifts offer Feeding America the flexibility to channel resources where they are most needed. Create a Team Feed fundraiser or a Facebook fundraiser and ask your friends and family to join you in supporting Feeding America as hurricane season begins. Together, we can hope for the best while preparing for the worst so we are ready to help during hurricane season and beyond.