November 19, 2017
by
On Wednesday, September 20, Maria made direct landfall on Puerto Rico as a powerful category 4 hurricane with 150 mph winds. By all accounts, it was the fifth-strongest storm ever to hit the U.S., and the strongest storm to hit the island in 80 years. The devastation was immediate and widespread.
Puerto Rico is my home and I needed to help. I immediately sought out a partnership with Feeding America to ensure that people have food to eat immediately after the hurricane but also during the lengthy recovery phase. Feeding America, the largest hunger-relief organization in the United States, and its member food bank – Banco de Alimentos de Puerto Rico – began distributing food and water within days of the hurricane.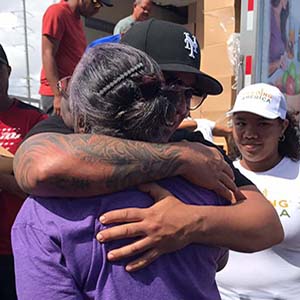 The food bank has been serving Puerto Rico since 1988. Last year, it distributed 10 million pounds of food. Since Hurricane Maria, it has distributed 3.6 million pounds of food, reaching 69 municipalities. It has been 60 days since Hurricane Maria barreled through Puerto Rico but the work continues. We cannot forget Puerto Rico. To rebuild, we will need strength and determination and food is the fuel we need to move forward.
Thanks to Feeding America and Banco de Alimentos de Puerto Rico for their work to distribute food, water, and hope to the people of my island. And I invite you to take part as well, to support our efforts so that Puerto Rico comes back stronger than ever.
Join Daddy Yankee's efforts to bring food and hope to Puerto Rico.