Communities are rebuilding in Puerto Rico despite challenges.
March 20, 2018
by
A young wife and mother, Sylvia Rosado, is doing everything she can to help her family move on in the wake of Hurricane Maria. "Our neighborhood was one of the first ones hit in Puerto Rico," said Sylvia. "Any house that was not cement is gone."
Six months ago, Hurricane Maria made landfall in Puerto Rico. The storm decimated buildings and destroyed roadways across the island. Once a charming town with beautiful views, Sylvia's mountaintop community sustained significant damage. Homes were leveled and roofs were ripped off local churches and businesses. When we last talked to her, Sylvia's family had been without running water or power for months, with no end in sight.
Many communities like Sylvia's suffered unthinkable losses, yet through it all, Feeding America has offered relief. Banco de Alimentos de Puerto Rico—a Feeding America food bank in Puerto Rico—prepared for an influx of need before the storm hit and sprang into action after it passed. Within two weeks, the food bank had distributed one-quarter of the amount of food that they typically distribute over an entire year.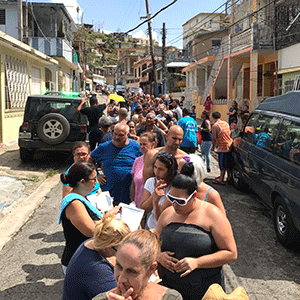 Feeding America staff member Carol Garrity spent several weeks in Puerto Rico this fall. She witnessed Banco de Alimentos de Puerto Rico offering much-needed relief to struggling households like Sylvia's. Weeks after the hurricane, she would still frequently encounter people who hadn't received any help since the storm. Many of them wore anxious expressions as they explained that the destruction had cut them off from the nearest town. As the food bank distributed groceries, they breathed sighs of relief and relaxed their shoulders, knowing that their family would eat dinner that night. "The food bank has helped people in every municipality across the island," said Carol. "They have truly risen to the challenge of supporting their neighbors left with nothing."
Today, there are signs of both hope and hardship on the island. Amidst the storm's devastation, many people made the difficult decision to leave Puerto Rico to secure better opportunities for their families. Many who stayed to help their communities recover are struggling to make ends meet—particularly seniors and people in rural areas. The storm has taken away their homes, jobs and loved ones, and it's been difficult to move forward.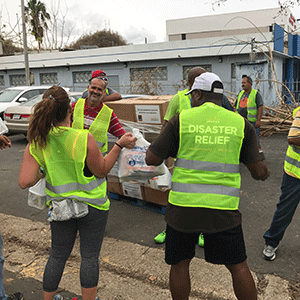 The people of Puerto Rico have faced many obstacles, yet they have also demonstrated incredible strength. As time passes, their optimism grows as they push ahead with support from caring neighbors—including their local food bank. Banco de Alimentos de Puerto Rico's facility hums with activity as staff and volunteers prepare boxes and bags filled with food, water, personal care items, cleaning supplies and more for struggling families. The food bank has distributed more than 8 million pounds of critically-needed goods since Hurricane Maria hit, reaching all of Puerto Rico's 78 municipalities. In the next few months, they will move into an even better facility that will enable them to distribute more meals.
Our disaster relief partners have made this important work possible. One such partner is Daddy Yankee, who has generously donated funds, volunteered and mobilized many others to donate. Thanks to Daddy Yankee and other compassionate supporters, Feeding America has helped provide millions of meals in Puerto Rico's devastated communities.
It's hard to believe, but this year's Atlantic hurricane season starts in less than three months. No matter what the future holds, Feeding America will continue supporting people across Puerto Rico through our local food bank, which has operated on the island for 30 years. It will be a long time before many communities have truly healed, but thanks to Feeding America supporters they will have the nourishment they need to face the future.
Feeding America is ready to help when disasters strike. Please consider making a donation to Feeding America or Banco de Alimentos de Puerto Rico.