The Feeding America Child Hunger Corps was a national service program that began in August 2010 to help increase the capacity of Feeding America member food banks and to increase the number of meals served to children and their families. The program came out of a recommendation from Child Hunger Strategy Team, which identified staffing capacity as one of the largest barriers to being able to expand child hunger programs across the network. Thanks to funding from the Conagra Brands Foundation, over forty Corps members were placed at food banks across the United States. Their work was deeply rooted in the needs of local communities and focused on leveraging available resources and partnership development.
What Corps Members Did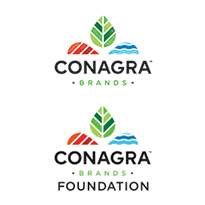 Corps members served for two years at a Feeding America network member location. Corps members began their placement with a six month Community Needs Assessment phase, conducting a gap analysis of their food bank's service area and determining opportunities for program growth. From the findings of their research, Corps members developed a set of recommendations to address the child hunger programming gaps in the area. Corps members spent the bulk of their service term working to implement or expand child nutrition programs. The final six months of the program were spent focused on program evaluation and process documentation to ensure the sustainability of programmatic growth. The program had a heavy focus on professional development, community building, and mentoring.
Impact
During their service term, Corps members started new program models, expanded existing programs to underserved areas, increased program participation, and increased community awareness of child hunger. Corps members helped food banks on average grow their meals by three times more than food banks that did not host a Corps member over the same time period.
"Our Corps member has been a wonderful addition to our team and has been integral in identifying our needs and communicating these needs to our community. He has truly made a lasting and positive difference for children struggling with hunger throughout Southern Colorado."
-- Child Hunger Corps local supervisor
"Our Corps member's enthusiasm and work helped us feed more meals and snacks to more children throughout Central and Eastern Kentucky."
-–Child Hunger Corps local supervisor
"... I am so thankful for the Child Hunger Corps program, and the incredible amount of opportunity the program offered me to have a real impact on the children in my community and to grow professionally."
--Child Hunger Corps Member
"I have engaged in work that I find rewarding and meaningful, and I have had the great fortune to meet and work with amazing and inspiring people along the way."
--Child Hunger Corps Member
On