Hunger In Latino Families
In 2010, working with Feeding America, The Urban Institute prepared two reports on the impact of emergency food assistance and federal nutrition programs in the lives of low-income Hispanic children, based on analysis of Hunger in America 2010 data. The report was sponsored by the ConAgra Foods Foundation.

According to the first report, Emergency Food Assistance Helps Many Low-Income Hispanic Children [PDF], the Feeding America network is serving nearly one in every three Hispanic children in the United States each year.

The second report, Low-Income Hispanic Children Need Both Private and Public Food Assistance [PDF], indicates that Hispanic children and their families are less likely to receive help from SNAP, the cornerstone of the federal nutrition safety net, than non-Hispanic white or African-American children. This overview highlights major findings from both studies.

Also available is an Executive Summary [PDF] highlighting the main findings of the research.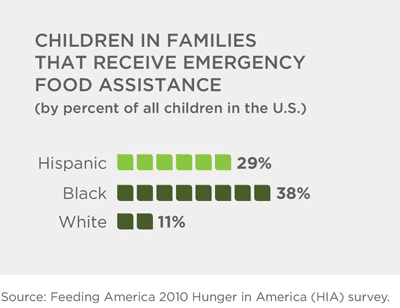 On