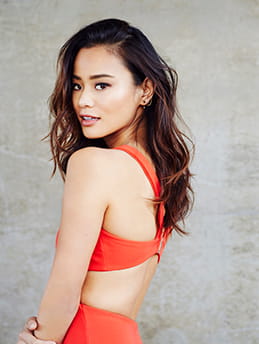 "Our lives center around meal time. A hot meal goes a long way. It gives us energy, boosts moral and brings communities together. No one should have to go hungry in America and that's why I stand behind Feeding America. It's a community I'm proud to be a part of."

Jamie Chung was born and raised in San Francisco and graduated from UC Riverside.
In 2012, Jamie won the Special Jury Award at SXSW for her performance in the film EDEN, based on a true story about a young Korean girl who was abducted and forced into sex trafficking and years later miraculously saves herself. The film also won the Narrative Audience Award. Chung returned to SXSW in in 2018 in the AIDS drama "1985" based on Yen Tan's short of the same name.
In television, Jamie has received praise for her role as "Ji-Ah" in HBO's LOVECRAFT COUNTRY, which was nominated for a Screen Actors Guild Award for Oustanding Performance by an Ensemble in a Drama Series.
In film, Jamie is known for her role in THE HANGOVER 2 & 3 hit comedy films for Warner Bros, Zack Snyder's SUCKERPUNCH with Oscar Isaac, Frank Miller/Robert Rodriguez's SIN CITY 2, and Oscar-winning animated film BIG HERO 6.
Most recently, Jamie was seen in Showtime's revival of DEXTER: NEW BLOOD. She will next be seen in Spyglass feature film REUNION opposite Jillian Bell, Lil Rel Howery, and Billy Magnussen, and in HBO's upcoming new season of SUCCESSION.