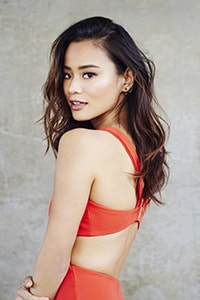 "Our lives center around meal time. A hot meal goes a long way. It gives us energy, boosts moral and brings communities together. No one should have to go hungry in America and that's why I stand behind Feeding America. It's a community I'm proud to be a part of."
Jamie Chung, born and raised in the San Francisco Bay area, is quickly becoming one of Hollywood's most sought after young actresses. She's well known for her recurring roles on ABC's ONCE UPON A TIME as "Mulan" and as "Valerie Vale" in Season 3 of FOX's GOTHAM. She was a series regular in JJ Abrams/Alfonso Cuaron-produced NBC drama BELIEVE and Hulu/Paramount's comedy RESIDENT ADVISORS.
Her feature credits include blockbusters like Frank Miller's SIN CITY and THE HANGOVER 2 & 3, Universal's MAN WITH THE IRON FIST produced by Quentin Tarantino, and SUCKERPUNCH directed by Zack Snyder. She was praised for her harrowing performance in EDEN, winner of the Special Jury Award and Audience award at SXSW. Jamie voiced "Go Go Tomago" in Disney's Academy Award winning BIG HERO 6 and will continue voicing the character in the upcoming animated series. Her other feature work includes Sundance indie RUDDERLESS opposite Billy Crudup, KNIFE FIGHT opposite Rob Lowe, and Paramount's OFFICE CHRISTMAS PARTY. She also produced her own film IT'S ALREADY TOMORROW IN HONG KONG.
She just wrapped shooting on the Marvel/FOX pilot HEAVEN, in which she plays series regular "Blink."