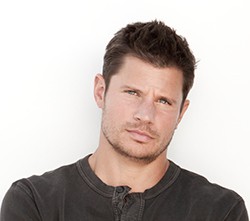 Nick
Lachey
Musician, TV Personality
"An astounding 50 million Americans are not sure where their next meal will come from. Having the opportunity to help many struggling families through Feeding America is something I've found to be very rewarding. I hope I can inspire others to lend a helping hand to continue the fight against hunger."
Nick Lachey, a multi-platinum recording artist, actor and television personality first rose to stardom as the front-man of the popular band 98 Degrees, selling 10 million albums worldwide and charting several top-forty hits. Lachey later went on to star in "Newlyweds," one of MTV's most successful shows in the network's history. In 2003, Lachey launched an enormously successful solo-album career for which his second record What's Left of Me, went to #2 on the Billboard Top 200 Albums chart.
In January 2013, Lachey reunited with his Grammy-nominated group 98 Degrees to announce their new album "2.0" and a Summer U.S. tour with New Kids on the Block and Boyz II Men both of which launched this May. Inspired by the birth of his new son Camden, Lachey also recently released a new lullaby album in partnership with Fisher Price entitled "A Father's Lullaby" in April 2013.
Outside of the studio, Lachey has been a prominent television personality having hosted several major national network programs and specials including "High School Musical: Get In the Picture," "Clash of the Choirs" (where Team Lachey took home the championship and most importantly a check for $250,000 for the Cincinnati Children's Hospital), NBC's Rockefeller Christmas Spectacular and Macy's 35th Annual 4th of July Fireworks Spectacular. Lachey has also starred on popular television series including CBS's hit show "Hawaii Five-O," CW's "One Tree Hill," "Charmed" and ABC's "Hope & Faith." Behind the scenes, Lachey created and executive produced the hit MTV series "Taking the Stage" based on the lives of students at his beloved alma mater the School for Creative and Performing Arts in Cincinnati which ran for two seasons. Most recently, Lachey hosted NBC's musical game show "The Winner Is" which premiered in July and in December, Lachey returned to host the fourth season of the highly-rated a capella show "The Sing Off." In March, Lachey joined VH1's "Big Morning Buzz Live" as their Spring 2014 host.
In addition to his success in the music and television industries, Lachey also remains a constant advocate for children's and humanitarian causes through his work with organizations such as VH-1 Save The Music, Feeding America, Big Brothers Big Sisters and the Make-a-Wish Foundation. He is also founder and President of The Nick Lachey Foundation, a 501c3 non-profit organization dedicated to helping children, families and communities in need throughout the United States. For additional information, please visit www.nicklachey.com or follow Nick on Twitter @Nicklachey.