The 100 Million Meals Challenge, now in its fourth year, has provided more than 315 million meals to people in need through Feeding America's network of 200 food banks. This year, Robbins provided a generous gift of more than 26 million meals* and the campaign's commitment is to ultimately provide 1 billion meals by 2025.
With 40 million Americans struggling with hunger, Tony invites you to join the Challenge. Help match his gift today!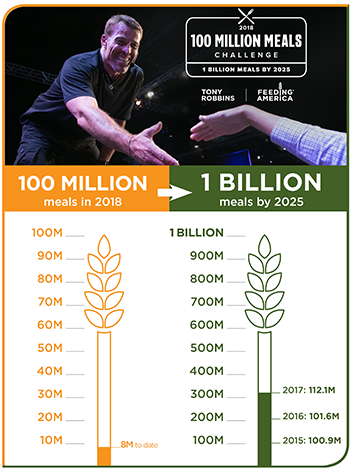 *Every $1 donated helps provide 10 meals for families facing hunger through the Feeding America network of food banks. Tony Robbins has committed a lead gift to support Feeding America and the 100 Million Meals Challenge. This amount, along with other gifts from major donors, will be used to double the impact of gifts made in response to designated campaigns through December 2018. Gifts received after the campaign or in excess of this amount needed to reach the 100 Million Meals Challenge goal will not be matched but will still help provide food and groceries.