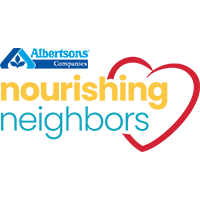 Visionary Partner
Albertsons Companies fights hunger in their communities through product donations and their Nourishing Neighbors program.
How
Albertsons Companies

is Helping Us Solve Hunger
Provides financial support to help end hunger in America.
X
Provides food and groceries or personal care items to people in need.
X
"As a long-standing neighborhood grocer, Albertsons Companies has an ongoing commitment to leverage our resources to support our neighbors in need. With a strong presence in more than 2,200 communities, we are committed to help ensure that people in our neighborhoods have access to the healthy food they need. In 2021, we continued to support our local communities as they navigated the impact of the pandemic. Along with the Albertsons Companies Foundation, we contributed nearly $200 million in food and financial support, including approximately $40 million through our Nourishing Neighbors Program. As we look forward, we are leveraging our strong community ties to explore innovative programs and partnerships to help break the cycle of hunger."