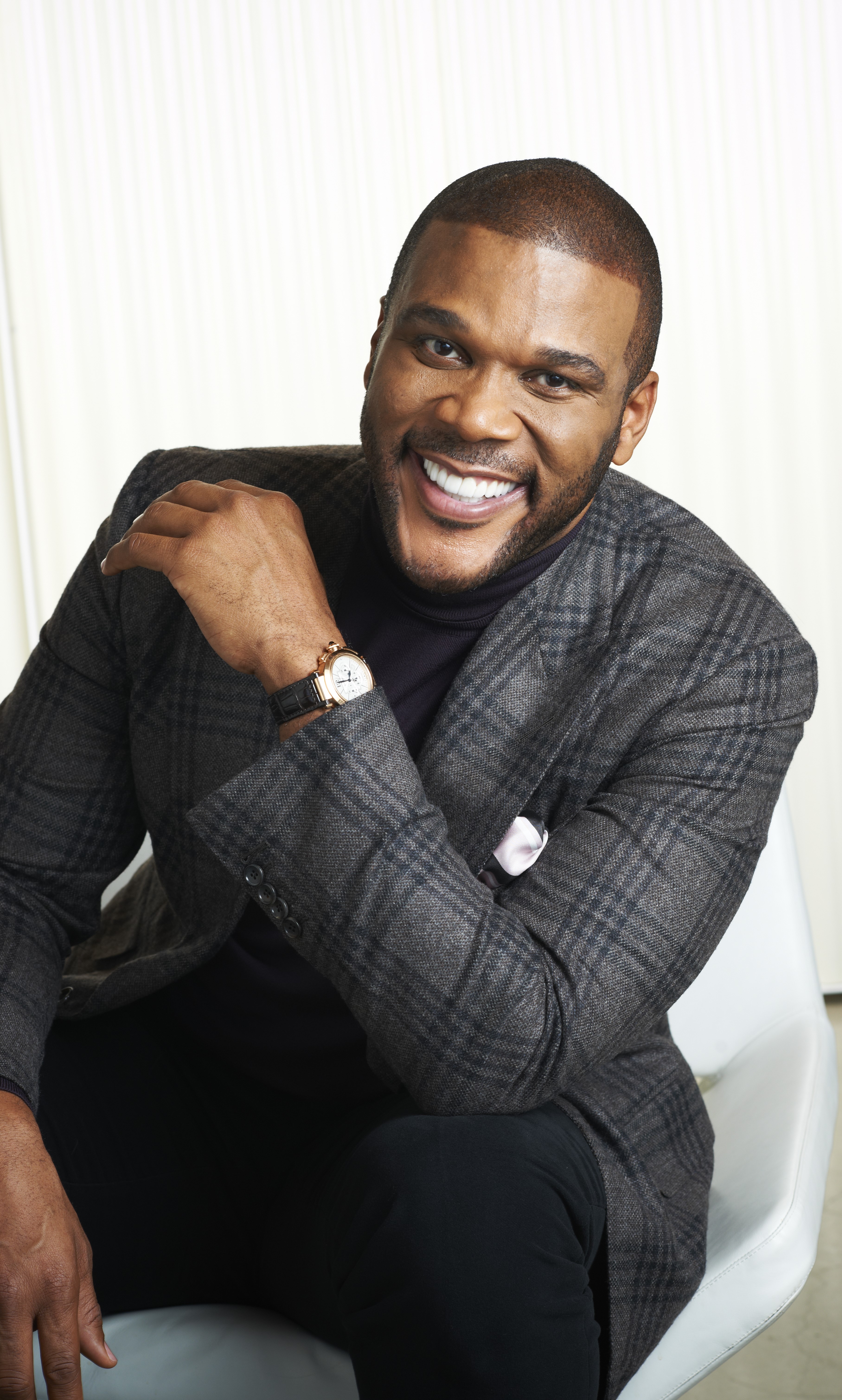 Actor, Director, Producer, Author
Tyler
Perry
"No one should have to worry about where their next meal is coming from. That's why I am a proud member of Feeding America's Entertainment Council, as it's our mission to spread the word on ways anyone can help end hunger."
Tyler Perry's inspirational journey from the hard streets of New Orleans to the heights of Hollywood's A-list is the stuff of American legend. Born into poverty and raised in a household scarred by abuse, Perry fought from a young age to find the strength, faith and perseverance that would later form the foundations of his much-acclaimed plays, films, books and shows.
It was a simple piece of advice from Oprah Winfrey that set Perry's career in motion. Encouraged to keep a diary of his daily thoughts and experiences, he began writing a series of soul-searching letters to himself. The letters, full of pain and in time, forgiveness, became a healing catharsis. His writing inspired a musical, I Know I've Been Changed, and in 1992, Perry gathered his life's savings in hopes of staging it for sold out crowds. He spent all the money but the people never came, and Perry once again came face to face with the poverty that had plagued his youth. He spent months sleeping in seedy motels and his car but his faith - in God and, in turn, himself - only got stronger. He forged a powerful relationship with the church, and kept writing. In 1998 his perseverance paid off and a promoter booked I Know I've Been Changed for a limited run at a local church-turned-theatre. This time, the community came out in droves, and soon the musical moved to Atlanta's prestigious Fox Theatre. Tyler Perry never looked back.
And so began an incredible run of 13 plays in as many years, including Woman Thou Art Loosed!, a celebrated collaboration with the prominent Dallas pastor T.D. Jakes. In the year 2000, I Can Do Bad All By Myself marked the first appearance of the now-legendary Madea. The God-fearing, gun-toting, pot-smoking, loud-mouthed grandmother, Madea, was played by Perry himself. Madea was such a resounding success, she soon spawned a series of plays - Madea's Family Reunion (2002), Madea's Class Reunion (2003), Madea Goes To Jail (2005) - and set the stage for Perry's jump to the big screen. In 2015 Perry returned to the stage, performing his new original play, Madea on the Run, to sold out audiences across the United States.
In early 2005, Perry's first feature film, Diary of a Mad Black Woman, debuted at number one nationwide. His ensuing Madea films, including Madea's Family Reunion, Daddy's Little Girls, Why Did I Get Married?, Meet The Browns, The Family That Preys, I Can Do Bad All by Myself, Why Did I Get Married Too?, For Colored Girls, Madea's Big, Happy Family, Good Deeds, Madea's Witness Protection, A Madea Christmas, Boo! and Boo! 2 A Madea Halloween, and A Madea Family Funeral have all been met with massive commercial success, delighting audiences across America and around the world. He also starred in the Rob Cohen directed Alex Cross and helped release Academy Award-nominated Precious, a movie based on the novel Push by Sapphire, in conjunction with his 34th Street Films banner, Oprah Winfrey's Harpo Films and Lionsgate.
2006 saw the publication of Perry's first book, Don't Make A Black Woman Take Off Her Earrings: Madea's Uninhibited Commentaries On Life And Love, which shot to the top of the New York Times nonfiction bestseller list and remained there for eight weeks. It went on to claim Quill Book Awards for both "Humor" and "Book of the Year" (an unheard-of feat for a first-time author), and spread Tyler Perry's unique brand of inspirational entertainment to a devoted new audience. It is a brand that quickly became an empire. In 2007, Perry expanded his reach to television with the TBS series House of Payne, the highest-rated first-run syndicated cable show of all time, which went into syndication after only a year. His follow up effort, Meet the Browns, was the second highest debut ever on cable - after House of Payne. In late 2012, Perry teamed up with Oprah Winfrey in an exclusive deal to bring scripted programming to her cable network, OWN, and launched with the half hour sitcom, Love Thy Neighbor, and the hour-long drama, The Haves and The Have Nots, which made its debut in 2013 and has continued to break ratings on the network. In August 2016, Perry debuted a new drama series called Too Close to Home on TLC, the network's first scripted series. OWN premiered a House of Payne spinoff series, The Paynes, on the network in 2018. It was announced in July 2017 that Perry signed a multi-year content partnership with Viacom, to produce original drama and comedy series across the Viacom networks, in addition to having a first-look feature film deal with Paramount Pictures group. Since the partnership began, Perry has released The Oval, Sistas, Ruthless, and Bruh with BET / BET+, and recently announced the revival of House of Payne, which will also premiere on BET. He also premiered his hit Madea's Farewell Play on BET+. Tyler now has 17 shows, 25 feature films, and over 1,500 episodes of television on his resume.
In the fall of 2008, Perry opened his 200,000 square foot Studio in Atlanta, situated on the former Delta Airlines campus in the Greenbriar area of southwest Atlanta. During the course of its operation, the space was home to production of over 15 films and over 800 episodes of Perry's five television series.Not one to rest on success, Tyler Perry and his Atlanta-based employees have been hard at work on films include Temptation: Confessions of a Marriage Counselor, among many others.
In March 2019, Perry released his next movie with Lionsgate, A Madea Family Funeral, which brought his popular character back to the big screen for her final moment and garnered over $74 million at the global box office. Perry's film, A Fall from Grace, premiered on Netflix in January 2020, where an impressive 39 million people chose to watch the movie in its first month of being on the platform. In 2021, Perry had a pivotal role in Taylor Sheridan's American Western thriller Those Who Wish Me Dead opposite Angelina Jolie, Jon Bernthal, and Nicholas Hoult, in addition to playing the role of morning show host, Jack Bremmer, in Adam McKay's Netflix feature film, Don't Look Up, opposite Leonardo DiCaprio, Jennifer Lawrence, and Cate Blanchett. He also lent his voice to Paramount's Paw Patrol: The Movie, which was released in Summer 2021.
Perry will soon take his iconic Madea character, whose franchise has grossed over $1 billion at the box office, to Netflix with a 12th movie, A Madea Homecoming. The film is set to premiere on Netflix on February 25, 2022. In Fall of 2022, Perry and Netflix will release A Jazzman's Blues, which is Perry's longtime passion project that he originally wrote in 1995. Perry will write, direct, and produce the film, which follows an investigation into an unsolved murder that unveils a story full of forbidden love, deceit and a secret that has been held for 40 years.
In 2020 Tyler once again made history in being one of the first filmmakers to get back to work during the historic 2020 COVID-19 pandemic. He found a safe way to get his cast and crew back to production by coming up with an extensive and safe plan to return to production, by creating "Camp Quarantine" on
the lot. In under two months he was able to complete full seasons of television for four of his BET / BET+ television series. As the pandemic bled into 2021, he collaborated with BET for an exclusive news special, "COVID-19 Vaccine and the Black Community A Tyler Perry Special," which premiered January 2021 on BET and BET Her. In the half-hour special, he sat down with top medical experts Carlos del Rio, MD Executive Associate Dean, Emory School of Medicine at Grady Health System, and Kimberly Dyan Manning, MD Professor of Medicine at Grady Health System to address the public's concerns and fears about the COVID-19 vaccine.
Listen to Tyler and you'll hear a man who hasn't forgotten about the people that have helped him reach the top of a mountain he could once only dream of climbing. Research into his history of philanthropic acts, and you'll find that Tyler gives from a personal place, aiding people and charities that help others overcome the obstacles that he, too, once faced. And on a grand scale. He has been intimately involved and donated generously to civil rights causes through work with the NAACP and NAN. He also strongly supports charities that focus on helping the homeless, such as Global Medical Relief Fund, Charity Water, Feeding America, Covenant House, Hosea Feed the Hungry, Project Adventure, and Perry Place - a 20-home community that Perry built for survivors of Hurricane Katrina in New Orleans. In January 2010, Perry pledged $1,000,000 via The Tyler Perry Foundation to help rebuild the lives of those affected by the earthquakes in Haiti and another $1,000,000 in 2017 to help Hurricane Harvey victims in Texas. After Hurricane Maria, he personally sent a plane full of supplies to Puerto Rico and ensured the return was filled with a group of survivors. Perry did so again in September 2019 to help victims of Hurricane Dorian in the Bahamas.
During the 2020 COVID-19 pandemic, Tyler once again stepped in to help those in need, including purchasing groceries for the elderly in Georgia and Louisiana, purchasing grocery store gift cards for police to hand out to Atlanta communities in need, covering travel expenses for George Floyd's family for his funerals, donating $100K to the legal defense fund of Breonna Taylor's boyfriend, Kenneth Walker, and paying for funeral expenses for Rayshard Brooks and Secoriea Turner, a young girl killed in Atlanta. Mr. Perry also hosted a 2020 Thanksgiving food-giving event at his Atlanta studio that fed 5,000 families.
The summer of 2020 proved to be extremely difficult for Americans as the COVID-19 pandemic was met with another national crisis – racial injustice. Following the death of George Floyd, like many people, Tyler Perry was exhausted from the senseless violence, hate, and division continuing to plague the United States. He spoke out in a video essay, featured exclusively on the cover of People Magazine, that lasted eight minutes and forty-eight seconds–the exact length of time former Minneapolis police officer Derek Chauvin used a knee to pin Floyd by the neck as he died. This very personal video included Mr. Perry's own experiences with racism, his conversations with his own son about racism in America, and ended with a call to action to never give up hope.
Tyler's work has been recognized with many esteemed awards in his career, including DGA Honors by the Directors Guild of America, the Chairman's Award at the NAACP Image Awards, Favorite Humanitarian Award and People's Champion's Award at the People's Choice Awards, Ultimate Icon
Award at the BET Awards, and the Governors Award at the 2020 Emmys. Most recently, he received an Honorary Oscar at the 93rd Academy Awards in April 2021 as the recipient of the Jean Hersholt Humanitarian Award.
Tyler Perry practices what he preaches, and what he preaches has endeared him to millions of fans drawn by that unique blend of spiritual hope and down-home humor that continues to shape his inspiring life story and extraordinary body of work.