Together, Red Nose Day and Feeding America are helping hungry kids.
May 18, 2018
by
"I had a student come up to me on Tuesday," a teacher in Asheville, North Carolina recently shared. "He told me that he had been up all night because he was sick. I asked him why he was at school, and he told me that he didn't have any food at home but he knew that he would get food if he came to school. I sent him home with several bags of food for his family."
This student is just one of the millions of kids in America who faces hunger. Though there are signs of prosperity across our country, the reality is that hunger touches the lives of children in every county.
Red Nose Day is dedicated to ending child poverty by making it fun for people to come together to raise money and awareness for kids in need. Red Nose Day takes this approach because they recognize laughter has a powerful way of bringing people together and breaking down barriers. Over the past three years, Red Nose Day has supported every food bank in the Feeding America network and has helped provide more than 8 million meals to children in the past year alone.
As we kick off our fourth year of partnership with Red Nose Day on May 24, we're reflecting on some of the amazing success stories we can tell because of this partnership.
1. Kids in Virginia had more time to play at recess instead of staying inside worrying about their next meal.
Virginia Peninsula Foodbank (Hampton, VA)
At first, no one could figure out why Devon wore a big jacket every day or why he stayed in the lunchroom when his classmates darted outside for recess. Then, he was caught taking food out of the trash and putting it in his jacket to bring home for his family. Thankfully, Devon doesn't need to worry about feeding his family anymore because Red Nose Day has enabled food bank staff (pictured) to provide meals and snacks to 1,500 local kids to take home every weekend during the school year.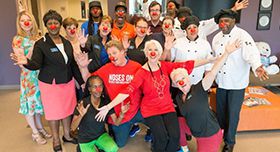 2. Struggling families in Pennsylvania received more vegetables.
H & J Weinberg NE PA Regional Food Bank (Pittston, PA)
Red Nose Day has made it possible for the food bank to introduce monthly Children's Produce Markets in three new schools while also improving and expanding the food options offered at the markets. Rutabagas grew in popularity after the food bank began serving samples of delicious mashed rutabaga and showing people how to cut, peel and store them. Children also wanted to bring more fresh produce home after they had the opportunity to sample fruits and vegetables that they had never tried before.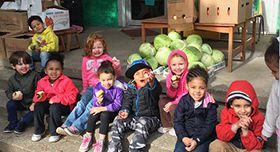 3. Children and families in Delaware went home with peace of mind and backpacks full of food.
Food Bank of Delaware (Newark, DE)
With support from Red Nose Day, the food bank's BackPack Program has provided more than 2,000 packs to kids in need during this school year. These packs full of meals and snacks have provided peace of mind to parents like Erin, who shared: "The Backpack Program helps our family have food that is easy to eat and prepare after school. Each Friday, coming home with good food makes my kids feel happy and thankful. Our family ran out of food stamps this month, but the BackPack Program kept my kids' bellies happy. Thank you!"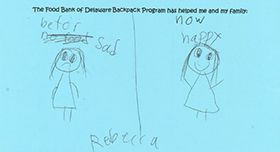 4. Hardworking families in Washington found comfort knowing they would have healthy meals.
Second Harvest Inland Northwest (Spokane, WA)
Rowan (pictured) knows that even though her mom works two jobs, she can't always afford to pay their bills and buy groceries. In fact, Rowan's mom is looking for a third job to make ends meet. When times have gotten especially tough, Rowan's family has found comfort in knowing that they can count on their local food bank for the meals they need. This year, Red Nose Day has helped the food bank offer more than 36,000 meals to kids like Rowan through Mobile Market food distributions at high-need schools across Eastern Washington and Northern Idaho. By increasing access to healthy food, the food bank is helping Rowan and many other children focus on school instead of feeling distracted and discouraged by the pain of hunger.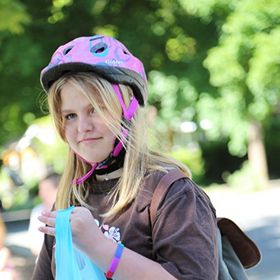 5. More meals reached kids facing hunger in Missouri.
Southeast Missouri Food Bank (Sikeston, MO)
It's hard to believe, but a staggering 74% of children in Pemiscot County, Missouri live in households with incomes low enough to make them eligible for federal nutrition programs. Thankfully, their local food bank is dedicated to making a difference across the region. Everyone at the food bank loves Red Nose Day—including forklift drivers in the warehouse (pictured)—because it has enabled them to provide more nutritious food for their A Better Childhood Mobile Food Pantry program.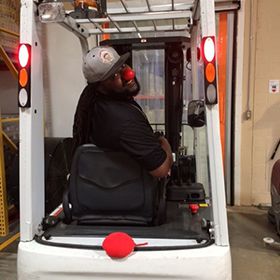 6. Children facing hunger in Indiana received food to enjoy on weekends.
Food Bank of Northwest Indiana (Gary, IN)
In Northwest Indiana, 1 in 5 kids struggles with hunger—but Red Nose Day is helping the local food bank provide children in need like Krystian, Elena, Azalea and Mya (pictured) with snacks and meals to take home every weekend. Funds from Red Nose Day have enabled the food bank to provide food for their BackPack Program, which reaches more than 300 kids every week during the school year.

"We would only have a little to eat without the BackPack," says Azalea, whose parents work a lot but still have a hard time making ends meet.

"I love getting chocolate milk and bear crackers in my BackPack," says Mya. "We're low on food sometimes, and we don't always have much money to buy more."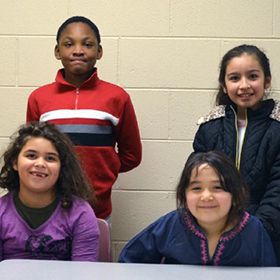 7. Students in California are more focused in the classroom.
Feeding San Diego (San Diego, CA)
"We have many students that come to school hungry," said Duane Coleman, superintendent of Oceanside Unified School District. "When they are hungry, they are thinking of food. Their minds are not on math, language arts, literacy – it's not there." Red Nose Day made it possible for Feeding San Diego to start a new school pantry at Laurel Elementary. On its opening day, nearly 200 children and their families received food.
Kids like Devon, Rowan, Krystian, Elena, Azalea and Mya aren't alone. There are children and families across the nation who can share similar stories of hunger but Feeding America and supporters like Red Nose Day are striving to make it better. Join us in supporting Red Nose Day so we can do even more to help children and families struggling with hunger. You can learn more about Red Nose Day's commitment to Feeding America and tune in for NBC's special night of TV celebrating Red Nose Day on May 24 at 8pm ET.
Together we can reach more kids facing hunger, one nose at a time.