April 3, 2012
by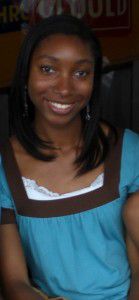 The Child Hunger Corps is a national service program designed to increase the capacity and capability of food banks to execute programs targeted towards the alleviation of child hunger. The objective of the program is to increase the number of nutritious snacks and meals served to children in need in local communities across the country. The Child Hunger Corps initiative is sponsored by the ConAgra Foods Foundation.
In August 2011, the second cohort of 11 new Corps members was placed at Feeding America member food banks, bringing the current total to 17 Child Hunger Corps members working at food banks across the country. This post is by second cohort member Traci Simmons, Child Hunger Corps member at the Regional Food Bank of Oklahoma.
Spring Break: a time for relaxation, family vacations, and not worrying about anything school related right? Well, this spring break is completely different for many of Oklahoma City Public School students. Since the district switched over to a continuous learning calendar, metro students have an extra week away from school. As a recent grad, a two-week spring break is something I could have only dreamed about, but for many metro students, I'm sure this break can seem a little daunting.
This extended break is definitely a change in pace for kids that rely on free and reduced-priced meals at school. Ten days is a long time to go without normally scheduled meals, especially for the most vulnerable, chronically hungry students who may have very little to nothing to eat at home. Wanting to meet this gap in meal service, the Regional Food Bank recently partnered with the school district and other organizations throughout the metro-area to ensure students have something to eat during their long break. For schools that currently participate in our BackPack and School Pantry program, extra sacks of food were sent home with kids before the break. Other OKCPS metro schools not participating in a food bank sponsored program also received sacks of food for students to take home.
In addition to sending extra sacks of food home with students, we partnered with 12 feeding sites through partnerships with OKC Parks and Recreation, the YMCA, Urban League, and Community Action Agency of OKC so kids could receive a free lunch and snack. I monitored several of these sites and enjoyed seeing the kids excited about their meals. We served 2,600 meals during the entire winter break. This time we served more than 2,600 meals in just the first week of service. With feeding opportunities throughout the metro area, hunger is an issue that many kids don't have to face this spring break.