June 3, 2014
by
Hilton Worldwide is one of Feeding America's most active partners in the hospitality industry. Hilton has been recognized by leading organizations such as the Clinton Global Initiative for their philanthropic investment across brands. Hilton engages in social responsibility through the principle "Travel with Purpose" and is an industry leader in strengthening communities in which its team members live and work, as well as making a deep commitment to living sustainably.
Hilton's partnership with Feeding America is multi-layered and includes philanthropic funding, employee engagement, cause marketing, and thought leadership:
Hilton funded pilots at seven Feeding America food banks to build out Online Marketplace, an innovative way to capture food donations from hotels (as well as convenience stores and other smaller retailers). Thanks to Hilton's support and learnings from the pilots, Online Marketplace is capturing millions of additional pounds of food.
Hilton's Global Team Member Volunteer Program encourages Hilton employees to work in their local communities across the globe, including food banks in the Feeding America network.
Several Hilton brands have activated cause marketing campaigns, including Hilton Garden Inn's "Breakfast with Heart" and DoubleTree's Cookie Care Campaign.
The Hilton Worldwide Responds Fund provides Hilton employees with the opportunity to support disaster relief and response efforts, including those of Feeding America.
This year Hilton invited Feeding America, along with the American Red Cross, to be a beneficiary of one of their Hilton HHonors Charitable Golf Outings, March 30-31 at the Waldorf-Astoria La Quinta Resort & Club in California. The event brought together Hilton leadership and friends for a silent and live auction (led with great humor and heart by Kevin Nealon) and a golf outing in the heart of PGA country. Thanks to Hilton Worldwide--as well as sponsors including PGA West, Citi, Coca-Cola, HD Supply, LG Life's Good, and Office Depot--$30,000 was raised for Feeding America and American Red Cross. It was an honor to represent Feeding America at the event and share the important work Feeding America is doing thanks to the support and partnership of Hilton Worldwide.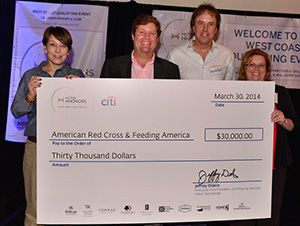 Kelli Walker, Feeding America; John Vanderslice, Head of Global Luxury & Lifestyle Brands, Hilton Worldwide; Kevin Nealon, Actor and Comedian; and Lois Beckman, American Red Cross Riverside County Chapter.
Kelli Walker is the Director of Corporate Partnerships for Feeding America.