July 13, 2018
by
Make the most of the summer sunshine by enjoying these quick and easy recipes from the amazing nutritionists, health educators and chefs from across the country at various Feeding America network food banks. These recipes were created to give families using food banks ideas for healthy meals that also introduce adventurous new ingredients into their cooking routines. Not to mention they are also delicious!
Appetizer: Cantaloupe Salsa
Take your chips and salsa game to the next level with this cantaloupe salsa from the Community Food Bank of Southern Arizona in Tucson.
Ingredients
2 cups diced (1/4 inch) cantaloupe
¼ cup diced (1/4 inch) sweet onion or red onion
2 tablespoons chopped fresh basil or cilantro
1 fresh hot red or green chile
2 tablespoons lime juice
Directions
Mix everything into a bowl and serve immediately.
Entrée: Salmon Burgers
The Northern Illinois Food Bank's chef loves to serve up these salmon burgers.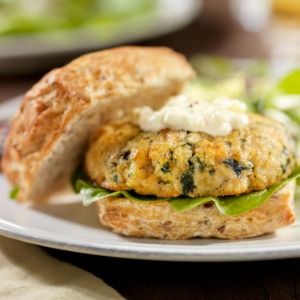 Ingredients
1 (14.75-ounce) or 2 (7.5 ounce) cans(s) salmon, drained and flaked
2 eggs
2 tablespoons finely chopped onion, bell pepper, jalapeno or other vegetable
¼ cup bread crumbs or oatmeal
2 tablespoons lemon juice
½ teaspoon dried herbs of choice (parsley or basil)
2 tablespoons vegetable oil
1/3 cup mayonnaise or yogurt
1 tablespoon hot sauce
6 hamburger buns
Directions
In a medium bowl, mix together the salmon, eggs, vegetables, breadcrumbs/oatmeal, lemon juice, and dried herbs. Form into 6 firmly packed patties, about ½-inch thick. Add the oil to a large skillet over medium heat. When the oil is hot, add the patties, and cook for 4 minutes per side, or until golden brown on each side. In a small bowl, mix together the mayonnaise or yogurt and hot sauce to make a topping for the burger. Build the burgers on the buns using 1 tablespoon of sauce to top each burger.
Dessert: Watermelon Smoothie
The Food Finder Food Bank of Lafayette, IN serves this delicious smoothie using a summertime favorite. A perfect way to finish out a healthy, filling meal.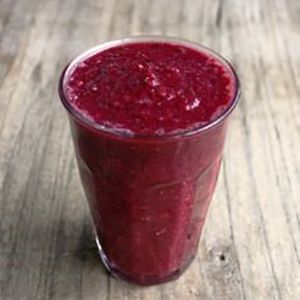 Ingredients
3 cups of watermelon
1 cup cantaloupe
½ c strawberries
1 cup low-fat plain yogurt
2 cups of ice
Directions
Add all ingredients into the blender and blend until smooth. Pour into glasses and drink with a straw.
Did you try something from this tasty menu? Sign up for our newsletter to receive similar updates and information.