May 11, 2014
by
At Panera, my job is to make sure we're delivering on our company's commitment to use our scale, expertise and resources to help address the issue of hunger in America. We do so through a variety of innovative programs, including the Panera Bread Foundation's non-profit community cafes, Panera Cares®. But we're always on a quest to figure out how to use one of our most valuable resources — our 80,000+ associates — to further impact the cause. That's why in April — National Volunteer Month — we rallied Panera associates, managers and MyPanera® members across the country at 12 different food banks to volunteer their time together against a common goal. It not only helped Panera deliver on our objectives, but also broadens our community of "hunger fighters" outside of our own company walls.
I really do believe that people want to do the right thing and have a desire to make a difference in their local community — sometimes they just don't know how! Despite our best intentions to give of our time, often times life and busy schedules just get in the way. That's why Panera hosts these events — to make it easy for our customers and associates to get involved. We do the legwork and coordinate the dates and times with our local food banks and then invite our MyPanera members via email to sign up. It's that easy.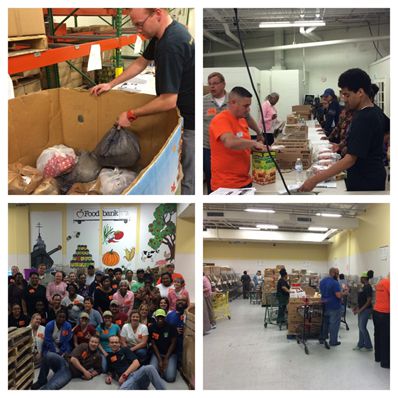 Take, for example, our volunteer experience at the Foodbank of Southeastern Virginia and the Eastern Shore (pictured at right). A total of 36 volunteers gathered and were able to package and prepare nearly 5,000 meals for distribution in Norfolk, Va. and the surrounding community. By helping local food banks, our teams really are feeding individuals and families who rely on food pantries or soup kitchens to make ends meet. A volunteer's time, especially when given regularly, fulfills a critical need for the food banks and local agencies with limited staff. For those of us at Panera, it's yet another way for us to share in the responsibility and ignite the change we want to see in our communities.
And that's not all we're able to accomplish when working together.
We're thrilled to report that in 2013 through our customers' generous participation, approximately $2 million was collected through the Panera Cares® Community Breadbox program, an in-cafe change collection program where participating cafes support Feeding America®. Nationally, this resulted in nearly 10 million meals* being secured for those in need.
We are also exploring other ways to get our teams involved in volunteerism beyond just on-site opportunities. We're looking at how we might be able to lend our professional skills to hunger-relief organizations across the country to develop a skills-based volunteerism program. We're always looking for better ways to activate our teams on the ground and have been exploring projects like community gardens and school programs. Lastly, we continue to encourage our teams to use their voices to raise awareness about the reality of hunger in America and the need to take action.
Panera and the Panera Bread Foundation could not execute these programs without the compassion and support of our customers, and for that we sincerely thank each and every person who has joined us in the fight against hunger. Together we are making a difference.
Kate Antonacci is the Director of Societal Impact Initiatives for Panera Bread
*50% of dollars raised through the Panera Cares® Community Breadbox program is converted to meals based on Feeding America®'s metric of $1 = 9 meals secured on behalf of local food banks. Remaining 50% of funds raised are helping secure an estimated 1.5 million pounds of soup for local food banks and pounds are converted to meals using USDA equivalent of 1.2 pounds per meal. Donations collected in participating bakery-cafes by the Panera Bread Foundation between January 1, 2013 and December 31, 2013.