June 7, 2013
by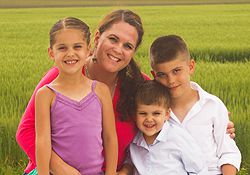 I'll be quite honest; it's hard to really wrap my brain around America's food insecurity issue, when my family in East Moline, Illinois, is surrounded by acres of corn rows and hundreds of Jersey cows that produce 2,500 gallons of milk on a daily basis. Food insecurity in America is a growing crisis and sadly, one in five children in American go to bed hungry.
Not too long ago, my oldest son, Tyler, told me that several of his classmates are sent home with a bag packed full of food on Friday afternoons. He wanted to know why he didn't get one. I answered him by opening up our stocked pantry and fridge, and told him, "Your classmates that are getting sent home with a snack bag don't have this luxury."
Tyler's eyes saddened, and my nine-year-old asked, "You mean the snack bag is all they have to eat over the weekend?"
I answered, "Unfortunately, yes." Then I shared with him a very personal story about my father, Bob, who grew up very poor and in a broken home. Many times he and his sister went days without eating. Cupboards and fridge empty with the exception of a bag of flour to which they would add water.
This reason alone makes me so proud of the role America's dairy farmers, like us at Bohnert Jerseys, play in helping feed a hungry nation. Dairy farmers like my husband, Scott, work endless hard days, day-after-day, taking excellent care of their land and cattle, which in return produces awesome, nutrient-rich dairy foods that help feed millions and millions of mouths.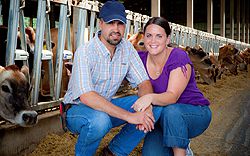 Daily care of the cows goes beyond milking them twice a day. My husband gets up when his alarm goes off at 4 a.m., to feed the cows. His work doesn't end there. He, along with his brother, Brian, and their parents, Jim and Wanda, and our eight employees, work together, to feed, milk, and care for our 350 milk cows and equal number of young stock and tend to our 1,300 acres of corn, soybeans, wheat and alfalfa hay. They do this, day-after-day, week-after-week because dairy farming is a 365-day commitment.
My Jersey family and I count our blessings that not only can we sit down and enjoy the comfort of eating three meals a day, but that as a dairy farm family, we are a part of the solution to our nation's hunger issue, one also faced by people across the globe.
Karen Bohnert is a dairy farm mom of Bohnert Jerseys in Illinois. Their farm is part of Feeding America partner Midwest Dairy Association.