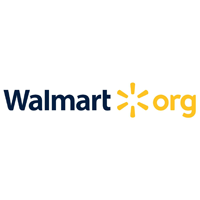 Visionary Partner
Walmart and the Walmart Foundation are working to support a sustainable food system that is affordable, healthier, safe and accessible to everyone.
Walmart and the Walmart Foundation have invested over $100 million in Feeding America since 2005 to provide charitable meals, develop infrastructure and build out essential programs. These investments have provided funding for equipment, trucks and logistical expertise to help food banks on the front lines of charitable food provision extend their reach and impact.
In FY2019, Walmart donated more than 640 million pounds of food in the U.S. alone. The retailer has also worked since 2014 to raise awareness of the issue of hunger by engaging Walmart and Sam's Club associates, suppliers and customers in Fight Hunger. Spark Change., a cause marketing program that has helped secure over 1 billion meals for Feeding America Food Banks in the U.S.
How
Walmart and the Walmart Foundation

is Helping Us Solve Hunger
Provides marketing and financial support to engage the public in hunger-relief
X
Provides food, funds or supplies to disaster-relief.
X
Employees volunteer or donate across the Feeding America nationwide network.
X
Provides financial support to help solve hunger in America.
X
Provides food and groceries or personal care items to people in need.
X
"Through our collaboration with Feeding America, we are able to increase capacity for fresh products, improving the quality and nutrition of food in the charitable meal system. We value our relationship and ongoing work with Feeding America, their network of member food banks and food pantries."