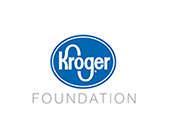 Visionary Partner
Kroger is an industry leader in hunger relief, sustainability and supporting local communities. Their innovative and generous work has received national recognition.
How
The Kroger Co.

is Helping Us Solve Hunger
Provides marketing and financial support to engage the public in hunger-relief
X
Provides food, funds or supplies to disaster-relief.
X
Provides financial support to help solve hunger in America.
X
Provides food and groceries or personal care items to people in need.
X
"Every day, Kroger's family of stores works closely with Feeding America and more than 100 local food banks, to bring wholesome, nutritious food to those struggling to put food on their tables. In 2016, our donations of food and funds provided 330 million meals. Feeding people is our business and our purpose. We know that meals matter."