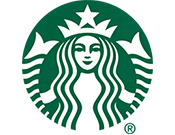 Visionary Partner
Starbucks' mission is to inspire and nurture the human spirit—one person, one cup and one neighborhood at a time.
How
Starbucks Coffee Company and Starbucks Foundation

is Helping Us Solve Hunger
Provides food, funds or supplies to disaster-relief.
X
Employees volunteer or donate across the Feeding America nationwide network.
X
Provides financial support to help solve hunger in America.
X
Provides food and groceries or personal care items to people in need.
X
"Starbucks has been fighting against hunger alongside Feeding America since 2016 and continually looks for innovative ways to address the persistent problem of food insecurity. We are proud to announce our expanded investment with Feeding America in new solutions like mobile food pantries that bring healthy meals closer to those who need it most."