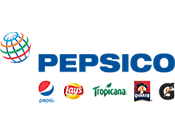 Visionary Partner
PepsiCo is helping fight hunger by providing more than 1 billion healthy servings to U.S. families by 2025.
How
PepsiCo

is Helping Us Solve Hunger
Provides marketing and financial support to engage the public in hunger-relief
X
Provides food, funds or supplies to disaster-relief.
X
Employees volunteer or donate across the Feeding America nationwide network.
X
Donates valuable products or services in support of hunger-relief.
X
Provides financial support to help solve hunger in America.
X
Provides food and groceries or personal care items to people in need.
X
"PepsiCo and Feeding America have partnered to make a difference in the lives of people across the country for over thirty years. All of us at PepsiCo are proud to support domestic hunger relief and nutrition. Together we are combating food scarcity, which affects the health of our communities."