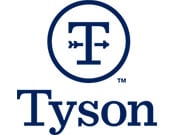 Leadership Partner
Tyson partners by providing contributions in the form of cash and in-kind protein donations, volunteers, board service and disaster relief support.
How
Tyson Foods, Inc.

is Helping Us Solve Hunger
Provides food, funds or supplies to disaster-relief.
X
Provides food and groceries or personal care items to people in need.
X