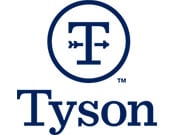 Leadership Partner
Tyson donates valuable protein to food banks nationwide. Employee engagement, cause marketing and disaster relief efforts also support the network.
How
Tyson Foods, Inc.

is Helping Us Solve Hunger
Provides marketing and financial support to engage the public in hunger-relief
X
Provides food, funds or supplies to disaster-relief.
X
Provides financial support to help solve hunger in America.
X
Provides food and groceries or personal care items to people in need.
X