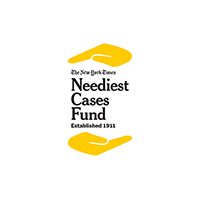 Leadership Partner
The New York Times Neediest Cases Fund, established in 1911, is committed to lifting up communities most in need of support. The Fund holds an annual campaign during which they share impactful stories from these communities and activate their generous readership in support of causus domestically and abroad.
How
The New York Times Company Neediest Cases Fund

is Helping Us Solve Hunger
Provides food, funds or supplies to disaster-relief.
X
Provides financial support to help end hunger in America.
X