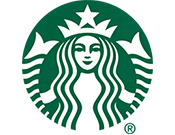 Leadership Partner
Starbucks supports Feeding America through its FoodShare program, donations to programs that increase access to food, cause-marketing and volunteerism.
How
Starbucks Coffee Company and Starbucks Foundation

is Helping Us Solve Hunger
Provides marketing and financial support to engage the public in hunger-relief
X
Provides food, funds or supplies to disaster-relief.
X
Employees volunteer or donate across the Feeding America nationwide network.
X
Provides financial support to help end hunger in America.
X
Provides food and groceries or personal care items to people in need.
X