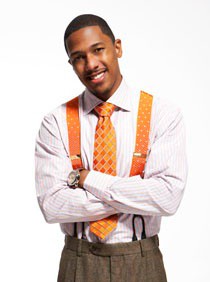 Nick
Cannon
Multi-faceted Entertainer
"Feeding America and fighting hunger is a cause close to my heart. As a child, my family and I visited food pantries from time-to-time. I'll never forget those days and the people and organizations that helped us get through rough patches. I'm proud to support Feeding America and their mission to end hunger in America. Together, we can all do our part to help those in need."
Cited by People Magazine as one of the 'Top Ten most successful young people in Hollywood' and featured on the cover of Black Enterprises' 40 Under 40, Nick Cannon, is a successful, multi-faceted entertainer: film star, comedian, TV and radio host, musician, writer, director, executive producer and philanthropist.
A San Diego native, Cannon began performing at the age of eight after his grandfather left him several instruments as a gift. Cannon headed for Hollywood at the age of 15 and landed gigs at world-renowned comedy venues including The Improv, The Laugh Factory and the Comedy Store. Cannon went on to share the stage with the likes of Chris Tucker, Dave Chappelle and Chris Rock before landing his first television gig as a stand-up audience warm-up for the long running Nickelodeon hit show "All That."
While he enjoyed tremendous success on Nickelodeon, Cannon's career catapulted onto the big screen when he made an appearance alongside Will Smith in "Men in Black II" before landing a leading role in the classic feature film "Drumline. That same year he released his own self-titled debut album, and has collaborated with a host of other musicians, such as Kanye West, The Neptunes, Diddy, Mary J. Blige, Will Smith, R. Kelly and E-40 on soundtracks and other projects.
When he is not in front of the camera or a live audience, Cannon is busy running his highly successful multi-media company NCredible Entertainment, producing TV and film projects, including TeenNick's Annual "Halo Awards," MTV docu-series "Son of A Gun," two "School Gyrls" movies and "Ragz" starring KeKe Palmer for Nickelodeon and most recently directing his first studio film, "School Dance" for Lion's Gate which is slated for release later this year. He also inked a multi-year, multi-million dollar first look production deal with NBC Networks to develop scripted and unscripted fare for the network earlier this year and introduced a new sketch comedy show, "Incredible Crew" which premiered on Cartoon Network and outperformed American Idol during its 8-8:30p time slot.
While his professional body of work keeps him extremely busy, Cannon has always made the time to use his resources and his voice to give back to the community and those in need - working with nationally recognized organizations such as Feeding America, Boys and Girls Club, Do Something, Toys for Tots, Stomp Out Bullying, Lupus Foundation of America and The National Kidney Foundation to name a few—in addition to running his own Nicholas Scott Cannon Foundation.
For more information on Nick Cannon visit www.nickcannon.com