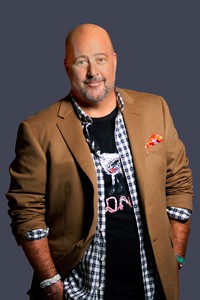 Andrew
Zimmern
Chef, Writer, TV Host
"Our food system in America has never been so good for so few, and so bad for so many. 20 percent of Americans suffer from food insecurity. The same number of our children are going to bed hungry and don't know where their meals are coming from. We have an opportunity to leave this world better than we found it, which is why I am so happy to be working with Feeding America."
Andrew Zimmern is a James Beard Award-winning TV personality, chef, food writer and teacher, who is widely regarded as one of the most versatile and knowledgeable personalities in the food world. As the creator, host and co-executive producer of Travel Channel's hit series, Bizarre Foods with Andrew Zimmern, Andrew Zimmern's Bizarre World, and his new series, Bizarre Foods America, he travels the globe, exploring food in its own terroir. From world class restaurants to street carts and jungle markets, it's all about discovering and sharing the authentic experience as a way to interpret the way we live our lives so we can make better choices for our future.
Zimmern is a contributing editor at Food & Wine magazine, an award-winning monthly columnist at Mpls.St.Paul Magazine and a senior editor at Delta Sky magazine. As a freelance journalist, his work has appeared in numerous national and international publications. Andrew is the author of The Bizarre Truth and Andrew Zimmern's Bizarre World of Food published by Broadway Books/Random House. Feiwel & Friends published Andrew Zimmern's Field Guide to Exceptionally Weird, Wild & Wonderful Foods in October 2012.
Zimmern is an Entrepreneur in Residence at Babson College's prestigious Lewis Institute. He serves on the board of directors for Services for the Underserved in New York City, and The National Youth Recovery Foundation.
He resides in Minneapolis, Minnesota with his wife Rishia, son Noah and several un-eaten pets.