June 21, 2013
by
Stephanie Cundith is a registered dietitian and nutrition communications manager for Midwest Dairy Council. She also serves as a spokesperson for the National Dairy Council. Stephanie has a seven-year-old son and is a member of the Academy of Nutrition and Dietetics.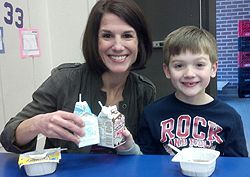 Throughout my work with Midwest Dairy Council, I've come across many significant and startling facts about hunger. But two, in particular, have left the greatest impression on me. As a registered dietitian and as a mother, I struggle to accept them.
Fact #1: According to the USDA, more than one in five children in the U.S. may not know where they will find their next meal.
When you consider the correlation between food insecurity and obesity, and the link between nutrition and school performance, it's tough to think about the magnitude of challenges (socially, medically, academically) a food-insecure child may face. When I see a group of children, I can't help but ask the silent question, "Which one of you is the hungry one?"
Fact #2: Dairy is among the top five food items in demand among food bank patrons, yet it is also one of the least available.
I am fortunate because my son, a soon-to-be third grader, has access to nutritious dairy foods like milk, cheese, and yogurt, not just every day, but at every meal. He enjoys their taste. And I enjoy knowing that these foods, together, provide nine essential nutrients vital to his health and development. It disheartens me to know that some (too many) families are robbed of this enjoyment and sense of reassurance.
But there is hope. Last year, National Dairy Council, Feeding America and the Academy of Nutrition and Dietetics formed a partnership to help alleviate hunger. Through a grant program, the three partners will work to support nutrition education and increase access to dairy and other nutrient-rich foods in food banks across the nation. I am proud to be a part of these efforts through my involvement with the dairy council and as an Academy member. I am confident that together we will be successful in reversing the hunger trend.
How can you help? Watch Feedin' a Nation, a music video featuring Midwest dairy farmers who sing about their passion for producing nutritious milk and feeding our nation. For every view, up to 20,000, Midwest Dairy will donate $1 (the equivalent of eight meals) to Feeding America. Your view will make a difference: watch the video today.