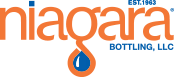 Leadership Partner
Niagara is proud to have donated over 18 million pounds of food to Feeding America as part of their ongoing efforts to support families in need.
How
Niagara Bottling, Inc.

is Helping Us Solve Hunger
Provides food, funds or supplies to disaster-relief.
X
Provides food and groceries or personal care items to people in need.
X