The research study, Spotlight on Senior Hunger, reveals the trends in food insecurity among the senior population between 2001 and 2011, identifying both the rate of food insecurity and the number of food insecure seniors aged 60 and older. During this decade, the number of food insecure seniors more than doubled. In 2011, 4.8 million seniors were food insecure, meaning that nearly one in every 12 seniors in the U.S. struggles to access enough food.
In addition to national trends, Spotlight on Senior Hunger also provides state-level estimates of senior food insecurity in 2011. The study documents that senior food insecurity varies considerably by state, ranging from 3.7 percent in Virginia to 12.9 percent in Arkansas. The estimates for all other states can be found below and on page 4 of the Executive Summary.
Senior Food Insecurity by State, 2011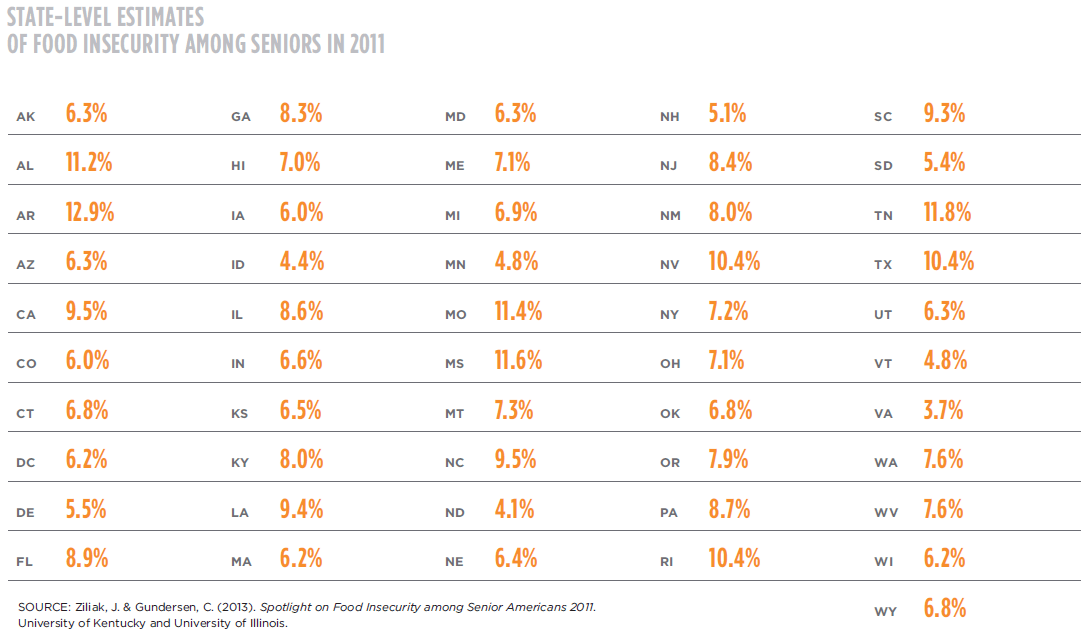 Finally, the study examines some determinants of senior food insecurity, such as race/ethnicity, age, income, and living with a disability, revealing that food insecurity disproportionately affects particular segments of the senior population.
Spotlight on Senior Hunger was released jointly by Feeding America and the National Foundation to End Senior Hunger (NFESH) in 2013, and was generously supported by HMS. The research findings are based on analyses conducted by Dr. Craig Gundersen and Dr. James Ziliak using senior-specific data from the Current Population Survey (CPS) Core Food Security Module (CFSM).
Read the Executive Summary [PDF]
On