Food insecurity and health are intricately linked. A diet that lacks nutritious food has detrimental effects on a person's physical and mental health. It can increase risk for developing health problems, including diabetes and hypertension. Food insecurity exacerbates the complex challenges of managing a chronic disease.
Our health research focuses on the roles that food, community-based interventions, and food bank-healthcare partnerships have on improving outcomes for people living in food insecure homes.
To access more resources on the intersection of
health and food insecurity, visit HungerandHealth.org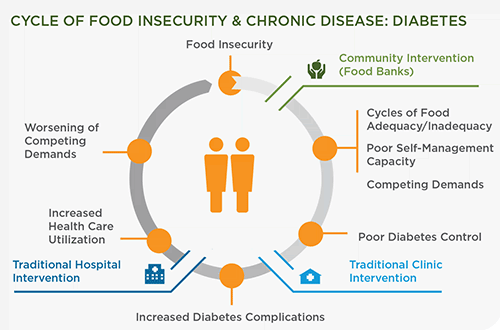 Food bank diabetes intervention improves food security outcomes
To evaluate food bank interventions on outcomes for adults living with uncontrolled type 2 diabetes, Feeding America conducted a randomized controlled research trial. After 6 months, participants experienced significant improvements in food security, dietary intake and food stability, but no differences were observed in diabetes management.
                                Comprehensive Diabetes Self-Management Support From Food 
                                Banks: A Randomized Controlled Trial
                                2018, Feeding America and University of California, San Francisco
Changes in food pantry environment support healthier choices
Informed by the field of behavioral economics, nudges are environmental cues that aim to improve behavior. Evidence from this pilot suggest that clients select healthier foods when nudges were implemented.
The Power of Nudges: Making the Healthy Choice the Easy Choice in Food Pantries
2016, Feeding America and Cornell University                           
Food banks are a promising partner in the fight against diabetes
A two-year pilot project found that targeted programs for food insecure adults living with diabetes significantly improved a number of outcomes, including blood sugar control. This observational study provided early evidence for how food banks and health care providers can work together to improve outcomes in low-income communities
A Pilot Food Bank Intervention Featuring Diabetes-Appropriate Food Improved Glycemic Control Among Clients In Three States
                              2015, Feeding America and University of California, San Francisco
On