Hunger in America is a series of quadrennial studies that provide comprehensive demographic profiles of people seeking food assistance through the charitable sector and an in-depth analysis of the partner agencies in the Feeding America network that provide this assistance. As the studies are regularly conducted in four year intervals, the iteration prior to the most recent one, Hunger in America 2014, was released in 2010, based upon data collected from Feeding America network agencies and clients in 2009.
Unlike the most recent study, Hunger in America 2010 only included traditional "emergency food assistance" programs, such pantry, kitchen, and shelter programs. Agencies completed surveys about the range of services and programs that they offer and clients at select programs participated in in-person interviews, sharing their circumstances and stories with trained data collectors.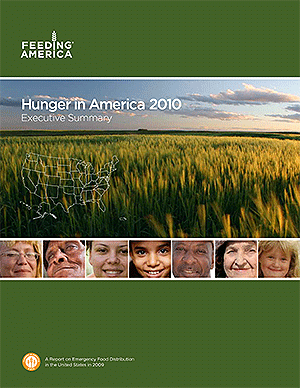 Because food banks partner with many other types of charitable agencies and food programs, including congregate senior programs, at-risk or transitional housing, or mobile distributions, the 2014 study was expanded to better capture the diversity and breadth of programs and clients in the Feeding America network. Therefore, Hunger in America 2014 is the most comprehensive iteration of the study to date and includes perspectives from clients at all eligible program types. For more information on the most recent HIA study, please see Hunger in America 2014.
For a copy of the Hunger in America 2010 full report or Executive Summary, please contact the Feeding America Research Team.
On