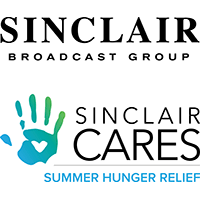 Leadership Partner
Sinclair Broadcast Group's Summer Hunger Relief campaign brought vital awareness to the issue of child hunger and helped raise more than 2 million meals. Local TV stations and Bally Sports ran news stories, volunteered, and more.
How
Sinclair Broadcast Group

is Helping Us Solve Hunger
Employees volunteer or donate across the Feeding America nationwide network.
X
Donates valuable products or services in support of hunger-relief.
X
Provides financial support to help end hunger in America.
X