May 1, 2012
by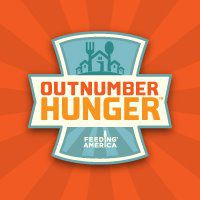 It's that time in the morning when all that matters is coffee and cereal - separately, of course. But today, my morning read went beyond the local headlines and Sudoku. Today, I read my cereal box — and it was rather inspiring.
That's because thanks to our partners at General Mills — makers of Cheerios, Lucky Charms and dozens of other products — a portion of my cereal box was dedicated to the Outnumber Hunger campaign. It reminded me of how it takes a communal effort to help feed people and, hopefully, one day eradicate hunger completely from this country.
The Outnumber Hunger campaign is an effort between Feeding America, General Mills and Big Machine Label Group (home of Rascal Flatts, The Band Perry, Martina McBride and other great country acts) to provide meals to local food banks. Here's how it works: consumers enter a code found on a number of General Mills products at the Outnumber Hunger website (outnumberhunger.com). Each code entered results in five meals secured for the local Feeding America network food bank.
And it's not just cereal. Check out outnumberhunger.com/products to see the whole list.
In about a month, 5.7 million meals have already been secured. The goal is 15 million, so we are a little less than half way to there. So be sure to do your part to help! Head over to Facebook and "like" Outnumber Hunger to help Feeding America secure 5 meals.
Which gets me back to my cereal box - who needs a toy when the gift of a meal is so much more rewarding?