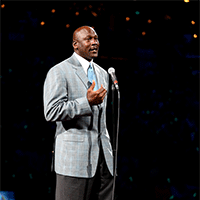 Leadership Partner
"In these challenging times and in a year of unimaginable difficulty due to COVID-19, it's more important than ever to pause and give thanks. I am proud to have donated additional proceeds from The Last Dance to Feeding America and its member food banks in the Carolinas and Chicago to help feed people facing hunger in America."
How
Michael Jordan

is Helping Us Solve Hunger
Provides financial support to help end hunger in America.
X