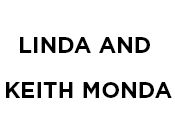 Leadership Partner
Linda and Keith Monda are transformational investors in Feeding America's Opportunity Accelerator initiative, supporters of child feeding programs throughout the network and providers of generous disaster-relief support.
How
Linda and Keith Monda

is Helping Us Solve Hunger
Provides food, funds or supplies to disaster-relief.
X
Provides financial support to help solve hunger in America.
X