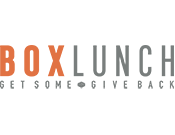 Leadership Partner
BoxLunch helps provide a meal to a person in need for every $10 spent in-store and online and with programs like register round-up and direct donations.
How
BoxLunch

is Helping Us Solve Hunger
Provides marketing and financial support to engage the public in hunger-relief
X
Provides food, funds or supplies to disaster-relief.
X
Employees volunteer or donate across the Feeding America nationwide network.
X